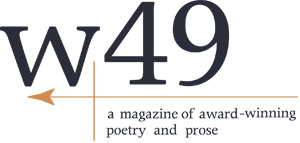 Be Provocative. Write Now.
W49 Magazine features the very best creative nonfiction, short stories and poetry submitted to the annual Langara College Writing Contest by current and former Langara students. All winning entries are published in the magazine along with a wide range of "honourable mentions."
W49 Magazine is edited and administered by the Department of English. 
Read the latest issue here: w49 Volume 21.
The Langara Writing Contest is open.
The contest is open to all Langara students, past and present. Students may submit entries in any or all of the following three genres. The deadline for submissions for our next issue is April 20, 2022. Two prizes ($100 for 1st place and $50 for 2nd place) will be awarded for each genre:
poetry
short fiction/graphic short fiction
creative non-fiction/commentary
In addition to the prize-winners, many of the deserving entries will be published in W49 Magazine, which will be released in the fall of each year, and which will be available at the Langara Bookstore. Back-issues of W49 are available as free PDFs in the sidebar to the right.
Submission Guidelines:
A single entry may include up to 5 poems, one short story and one creative non-fiction work not longer than 2,000 words. To submit an entry please fill out the form here. 
Check back for this year's winners.
Questions? Contact gwilkinson@langara.ca 
---
2020-2021 Winners
Congratulations to the Winners of the Langara Writing Contest. Many thanks to all who submitted!
Fiction
1st: "Not a Fan" by Kate Cunningham 
2nd: "The Inverted Story" Malcolm Svensson 
Honourable Mentions:

"Welcome to the Waking World" Braedon Lowey 

"The Visitor": Corey Morrell 
Creative Non-Fiction
1st: "Autopsy Report": Mary Grace Fojas  
2nd:  "Down the Hammer" by Lydia Lovison  
Honourable Mentions:

"Karl" by Maya Marino 

"How to Get Out of the Free Escape Room" by Arlen Peterson 
Poetry
1st: "Are We Stars Still?" by Xochitl Leal 
2nd: "a space i hold for no one but me" by Suki Lam 
Honourable Mentions:

"Kodokushi" by Malcolm Svensson

"Four Holes and Seven Days Ago (Dry Socket)" by Kate Cunningham 

"Alchemists" by Xochitl Leal 

"The Most Magical Place on Earth" by Kate Cunningham