Welcome
Indigenous Education and Services acknowledges that Langara College is located within the traditional territory of Musqueam People. We are honoured to be welcomed by them.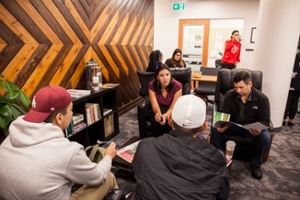 Musqueam Indian Band Welcome Message (PDF 2.0MB)
Langara College proudly implemented the first formal Aboriginal Education Policy in British Columbia. The policy was implemented in order to increase the success rates and the representation and retention of Indigenous students.
Through Indigenous Education and Services students have access to:
Workshops and information sessions
Counselling – educational, personal and career
Advocacy and liaison support with band/tribal administration, sponsoring agencies, community resources, College programs and/or services, etc.
Assistance with the transition into Langara and/or transfer to other post-secondary institutions upon completion of studies at Langara College
Watch the video about Langara's Indigenous Education and Services: