snəw̓eyəɬ leləm̓ is proud to offer an Elder in Residence Program. There is so much to learn, and Elders who give their time to our space bring a wealth of knowledge, wisdom, and insight.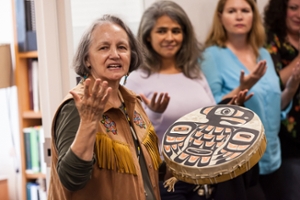 With their unique cultural knowledge, protocol, stories, and ways of being. Elders demonstrate many core values the College holds in high priority: experiential learning and discovery, inclusiveness and diversity, leadership, integrity, and community.
By connecting with Elders regularly, students build a sense of community, belonging, and identity in a supportive environment. The Elder in Residence Program offers counselling, traditional teaching including beadwork, and ceremony during their time on campus.
Elders are available to provide cultural or ceremonial programming for College events. If you would like to request for an elder to attend your event please fill out an elder request form (PDF).