About Our New Provost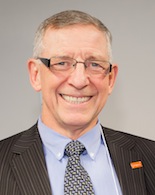 Dr. Ian Humphreys was named Provost and Vice-President, Academics and Students on March 11, 2016.
Working closely with deans, faculty and staff, he champions the implementation of Langara College's Academic Plan and provides leadership for Academic Innovation, Student Services, and Registrar and Enrolment Services.
With an emphasis on faculty and student engagement, Dr. Humphreys' strategic focuses include learning and teaching, student support, Aboriginal initiatives, international initiatives and environmental, financial and social sustainability.
Dr. Humphreys brings a decade of previous experience with Langara into his role, recently serving as Vice-President, Strategic Planning and Business Development. Prior to joining the College, Dr. Humphreys built a successful educational technology company, and served as Executive Director of the Geraldine and Tong Louie Human Performance Centre at Simon Fraser University.
Dr. Humphreys holds MSc and PhD degrees from the University of Alberta, and a BSc in Sport Science from Liverpool Polytechnic in England.