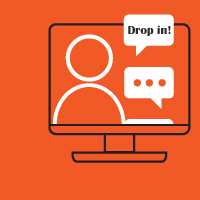 DROP-IN SESSIONS
Our Recruitment Officers are hosting online drop-in sessions to answer your questions about applying to Langara. Drop-in sessions are held via Zoom Monday-Friday from 2:00 pm-4:00 pm. 
Join the Zoom Meeting:  https://langara.zoom.us/j/67030601916
INTERNATIONAL STUDENTS
Future international students can join daily online zoom sessions with marketing representatives from the College. There will be no advising when the College is closed for the weekend or for a holiday.
International students may also register to attend a virtual information session or a virtual fair. Some sessions are offered in different languages and in different time zones.
---
PROGRAM INFORMATION SESSIONS
Program Coordinators host online Information Sessions for specific programs. Please click on the program link below to join us at the info session. If the program you are interested in isn't listed below, please go the program's website and email the program coordinator.
Information Sessions
Session Dates

Regular Studies

Nutrition & Food Service Management

October 7, 2021
»
Online Info Sessions

October 19, 2021; November 2, 2021; November 30, 2021
»
Education Assistant Programs

October 21, 2021; November 22, 2021
»
Recreation Programs (online)

November 18, 2021; October 14, 2021
»

Continuing Studies

Registered Massage Therapy Diploma

November 8, 2021; October 4, 2021; December 6, 2021
»
Advanced Project Management

December 1, 2021; January 5, 2022
»

General Information Sessions



October 6, 2021
»

Co-operative Education

Co-op sets you up with paid work experience in the field you're studying and Langara has partnerships with hundreds of employers who are interested in hiring you for a semester. Co-op information sessions are held several times a year. Attend one to find out more about this great opportunity. Co-op information session schedule.