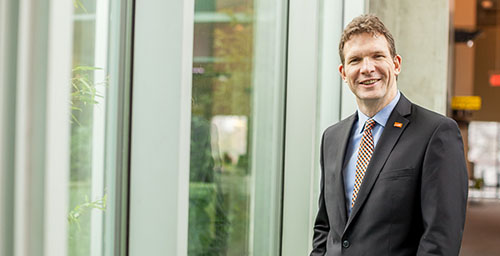 Dr. Lane Trotter
President and CEO
Biography
Dr. Lane Trotter joined Langara College as its third President and CEO on January 20, 2014. Since joining the College, he has overseen the development of Langara's two Academic Plans (in 2014 and 2021), two Strategic Plans (in 2015 and 2021), and a multi-year integrated priorities plan (2016). Over this period Langara has also successfully pursued an internationalisation strategy and is working to enhance its programs and services for Indigenous students. His work with the Musqueam First Nation, on whose traditional unceded territory the College is located, led to Musqueam giving Langara the name snəw̓eyəɬ leləm̓, which means house of teachings, in January of 2016.
Prior to joining Langara he served as the Senior Vice President, Academic, at Fanshawe College in London, Ontario where he led a successful strategic enrolment management initiative, launching 26 new programs and two new degrees. He was also involved in the development and launch of several new campus locations including the Centre for Applied Transportation Technologies (2011), Centre for Digital and Performing Arts, and the Aviation Centre.
While he was in Ontario, he contributed his expertise to Colleges Ontario, the umbrella organization representing all 24 Ontario colleges, served as an expert panelist for the Ontario Ministry of Training, Colleges, and Universities' visioning sessions for all 24 colleges and 20 universities, participated in the development of Colleges Ontario's proposal to offer three-year applied and four-year honours degrees, and was one of the lead authors for the creation of a province-wide Ontario Online Institute.
Over his 24-year career Dr. Trotter also served as a Dean at the British Columbia Institute of Technology (BCIT) and at St. Clair College in Windsor, Ontario. While at BCIT, he was instrumental in the development of the education and business plan for the Aerospace Campus, which opened in 2007. He also spent a number of years serving in different roles in BC's Ministry of Advanced Education.
Dr. Trotter is the author of many papers and presentations on higher education administration, governance, academic freedom and comparative education systems. He has also been active in a variety of national committees and local, provincial, and national boards. He served as the Chair of the Council of Presidents of BC Colleges between 2015-2017 and, in 2017, served as the Campaign Chair for the United Way of the Lower Mainland.  He currently serves on the Board of Governors of the Business Council of BC.
He earned his Doctorate of Education from Simon Fraser University (2010) and holds a Master of Public Administration from the University of Victoria (1992).