Textbooks: 
The FALL 2021 Book List is available now!
Log in to your Student Information System, go to your Course Schedule, and click on the "Find My Textbooks Tool".
Shop online and use our delivery service. Shipping is $9.99 within BC and free for orders over $300.00. For more details on purchasing textbooks or digital textbooks, click here.
---
Online Shopping and Delivery Service:
Please visit us @ MyCampusstore for online shopping and delivery service options. Order online and choose to have your order delivered to avoid the disappointment of long lines.
If you are unable to purchase books online, or if you wish to pick up your online order, please check our Store Hours.
Only come to the Bookstore on campus if absolutely necessary. If you do need to come to campus, please follow all safety protocols.

---
Student Laptop Borrowing Program 
Please Note: The Laptop Borrowing Program has moved to the Library. It will begin Sept 7th.
Laptops will be available for the duration of an entire semester. There is no charge to borrow a laptop, however photo ID (Student ID or government ID) and a student number must be provided when picking up the computer. 
Laptop lending will occur on a first come first serve basis, starting Sept 7th. 
Students are responsible for returning the laptop in the condition that it was lent in. If the laptop is returned damaged, the price of repairing the damage will be charge to the student.  
The laptops available for borrowing will contain basic software (browsers, Office 365). 
If you currently are borrowing a laptop and are facing technical issues, please check the IT Knowledge Base.  
Please note all laptops while loaned are bound by the Langara Computing Policy.
---
Support our student services - Surplus revenue generated from sales goes back into funding the college, which means that when you buy from the Bookstore your dollars support and enhance student services and programs.
At your mycampus online store, you will find a full range of school supplies, official Langara logo spirit gear, as well as all of your textbooks and course materials. Shop online, compare prices, and use our delivery service. You can also purchase convenience products including computer accessories, calculators, and stationery online.
Instructors: Please note that Spring 2022 Course Material Requisitions are due by October 15th, 2021 
Last Updated August 2021
Purchase e-Books Online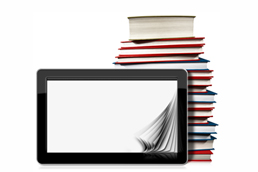 Purchase your digital e-Books online - no need to carry heavy books.
Textbooks Made Easy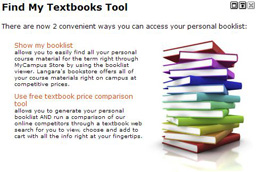 Use the "Find My Textbooks Tool" to access your personal booklist for classes. Login to your Student Information System.