Textbooks: 
The Spring 2024 Book List is now available!
Log in to the Student Information System, go to your Course Schedule, and click on the "Find My Textbooks Tool" link.
Beginning December 6th you can shop online or come in-store to purchase your materials. For more details on purchasing textbooks or digital textbooks, click here.
---
Online Shopping and Delivery Service:
Please visit us @ MyCampusstore for online shopping and delivery service options. Order online and choose to have your order delivered to avoid the disappointment of long lines. If you are unable to purchase books online or if you wish to pick up your online order, please check our Store Hours.
---
Future Skills Grant:
Have you been approved for and accepted into a course funded by the StrongerBC Future Skills Grant?  Please read our instructions on how to apply the grant to your course materials purchase.
---
Support our student services - Surplus revenue generated from sales goes back into funding the college, which means that when you buy from the Bookstore your dollars support and enhance student services and programs.
At your mycampus online store, you will find a full range of school supplies, official Langara logo spirit gear, as well as all of your textbooks and course materials. Shop in-store or shop online and use our delivery service. You can also purchase convenience products including computer accessories, calculators, and stationery online.
---
Last Updated December 2023
Purchase e-Books Online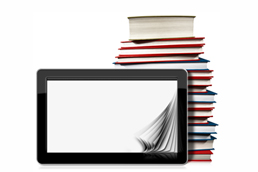 Purchase your digital e-Books online - no need to carry heavy books.
Textbooks Made Easy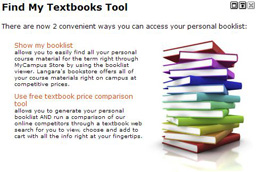 Use the "Find My Textbooks Tool" to access your personal booklist for classes. Login to your Student Information System.