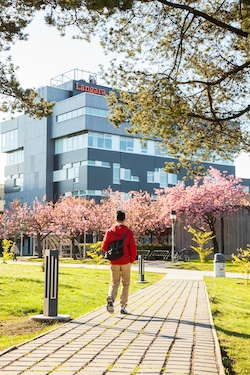 Introduction 
In 2020, the College began developing its second academic plan. Using the metaphor of a kaleidoscope, the academic plan set a direction for us to follow as we aspired to achieve the goals of the four strategic themes (or lenses) of the plan. The journey ahead, while driven by the core values that have made Langara College so successful, is significantly different today than it was five years ago as the waters are marked by sector-wide disruption, driven in large measure by technological advances, new competition, evolving learner demands, financial constraint, and changes in demographics in our classrooms and in our communities. 
The College's future academic direction is embodied within our new Academic Plan and sets forth a bold direction that responds to today's context. 
At the same time, our dynamic College continues to evolve. Since the start of our last academic plan, the College has undergone incredible growth. Our students, staff and faculty are more diverse; our role in Reconciliation and our relationship with Musqueam continues to evolve; advances in technology continue to change our pedagogy; and geo-political forces around the globe influence our classrooms and the financial stability of the College. 
It is imperative that we understand where Langara fits into the current environment, and how we will continue to remain relevant and valuable as we move into the future with our next Academic Plan. To this end we have developed our new Academic Plan that will guide the College through the next five years. 
Challenges 
There were a variety of issues that demanded our consideration when defining a clear vision of Langara's academic future. These include, among others: 
a continuing decline in government funding coupled with a high degree of fixed costs within our budget

 

growing government demand for quality and accountability assurance

 

declining traditional student-aged population (18-24-year-olds) within our catchment area

 

growing cost-of-living in Vancouver casting our students further from the College to find affordable accommodation

 

the response of government to the "skills shortage" with "talent development"

 

the increase in new-economy industries in BC, eclipsing traditional industries and sectors

 

increasing expectations from stakeholders (

e.g.,

 the desire for new and better services, and creating opportunities for community engagement)

 

the early introduction of AI and its implications for traditional classroom-based learning

 
Identifying these types of challenges and developing strategies for Langara informed the shape of the College's new Academic Plan, which will help us create strategies that will continue to guide us in the years to come. 
Opportunities 
The specific challenges we face are matched by unique opportunities that have been shaped by Langara's existing successes. These include, but are not limited to: 
a long-standing and respected reputation for quality university-transfer studies

 

the quality of teaching and instruction as demonstrated by our high-calibre faculty

 

a diverse set of valued community and career-related programs that prepare students for meaningful work

 

innovative and popular Continuing Studies programming

 

our global reputation as a leader in international student recruitment and services

 

a growing capacity in applied research and social innovation, providing work integrated learning opportunities for students through relationships with our community partners.

 
With the unwavering commitment to creating an exceptional learning experience for our students by placing them at the centre of all we do, we asked ourselves some important questions about the last Academic Plan: Of what are we most proud? What have we done well? What can we do better? What should be enhanced in the next Academic Plan? These questions and more were considered as we undertook our consultations and engagements through the Academic Plan development process. 
The Process 
The foundation of an effective Academic Plan is based on the active engagement of our academic community. To this end, consultant Joan MacArthur -Blair, who has successfully assisted numerous colleges and universities with academic planning, worked with us over the past few months in helping to shape a process for this important work. 
Joan has been sought specifically because of her approach to developing our next Academic Plan.  . A leading expert in Appreciative Inquiry, her engagement with the community will be collaborative and collegial (consistent with the spirit of appreciative inquiry) – in other words, truly Langaran. 
Joan worked with us throughout this project, most notably by engaging the campus while gathering and synthesizing data that you provided. Your feedback formed the foundation of the Colleges' new Academic Plan. Joan worked closely with the Academic Planning Steering Committee that was constituted in fall of 2020. The Committee supporting the planning and logistical requirements of this endeavour came from the breadth of the academic portfolio of the College, including the Provost's direct reports, faculty, staff, and students from across the College. 
That Committee is chaired by the Provost & Vice-President, Academic and Students. Working with our consultant, the Committee approved an active consultation process that will commenced in spring of 2021. That process was inclusive and comprised a series of interviews, Appreciative Inquiry sessions, focus groups, and an online questionnaire. We completed an initial draft of the Academic Plan and presented it for a first round of feedback in early summer 2021. After iterative rounds of feedback and roll-out meetings in the fall, the new Academic Plan is now ready for implementation alongside the Strategic Plan.