Get prepared for College
Starting college is a big step and the transition into post-secondary can be challenging. The Langara Student Success Course (LSSC) prepares you for academic life at Langara and introduces you to key supports available on campus and online.  
Accessible 24/7
The LSSC is available to you through your Brightspace account – and it's free! The LSSC is accessible 24/7 and includes a team of student ambassadors who share fantastic information about being a successful student at Langara.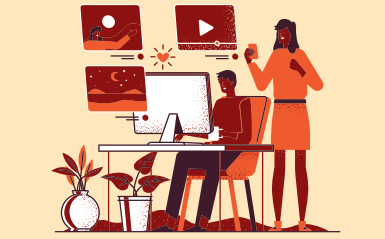 What do you get in this course?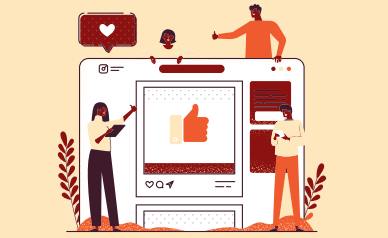 understanding of what to expect in a college classroom
tools to be successful in your studies
strategies to study effectively
new organizational and time management skills
Make the most of your time at Langara
Start today. We recommend you complete the LSSC course before your classes start to make the most of your time at Langara. Students who complete the course have higher grades and accomplish more throughout their studies. To access the LSSC, see the step-by-step instructions below.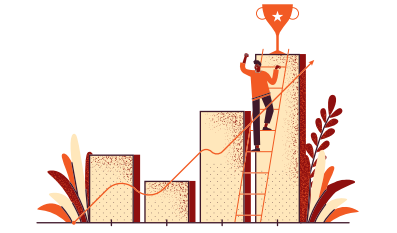 Steps of how to Access the Langara Student Success Course (LSSC)
The Langara Student Success Course (LSSC) is an initiative at Langara delivered to students online through Brightspace. The goal of the LSSC is to strengthen your skills for academic life at Langara and introduce you to key resources and opportunities available at the College. The Spring 2023 LSSC will open on December 5, 2022.
New Students
If you are a new student, you will automatically be enrolled in the LSSC course accessible through the homepage after you log into Brightspace ». Use your Computer User ID to log in.
Get instructions to set up your computer ID ».
Current Students
1. Log in to Brightspace ».
2. On the homepage, click on Self Registration near the upper left.If you are not on the homepage, you will not see the "Self Registration logo". Please click on the Langara logo to return home.

3. Select the LSSC-1000 – Langara Student Success Course Spring 2023 from the Self Registering Course Offerings list.
4. Confirm registration by clicking on the Register button.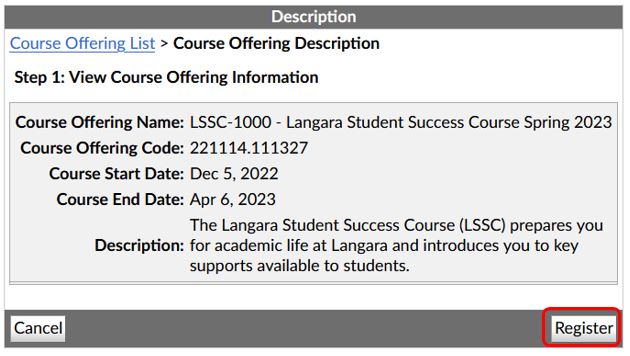 5. You are now registered for the course. Please check your email for confirmation.
For LSSC troubleshooting please contact
The LSSC Team: lssc@langara.ca
Join the conversation
Start following Langara on your favourite social media channels and join the conversation. We are most active with student engagement on Instagram and Facebook, but you can also find us on LinkedIn, Twitter, YouTube, TikTok, and Snapchat.
@langaracollege | @langaraglobal | @LangaraGatheringSpace | @LangaraFalcons | @LangaraVOLT | #thisislangara