For over thirty-five years the Department of Modern Languages has made its reputation teaching foundational language courses, the basis for developing superior language skills.
Career Benefits
In an expanding global economy your multi-lingual skills will give you a competitive advantage when seeking employment in most professions either in Canada or abroad. A command of French, one of Canada's two official languages, is an essential qualification for entry into the Canadian civil service, politics and the federal judicial system. University graduates capable of communicating in Spanish, the unofficial second language of the United States, are in demand by corporations active in business and trade throughout North and South America.
China, fast becoming one of the world's leading economic powers, provides tremendous scope for career options in almost any field including finance, business and marketing, for professionals who are fluent in Mandarin. Japan, Canada's third major trading partner, is a dominant economic force in Asia alongside China and India. Fluency in Japanese opens career opportunities in corporate and commercial ventures as well as industries in which Japan excels: high tech, film animation and communications.
Personal Benefits of Learning a Language
The intellectual rewards of learning a foreign language complement the advantages it confers on your chosen career. Interestingly, language acquisition has the effect of increasing vocabulary and improving syntax in one's native tongue. It will hone your critical thinking skills, and it will strengthen your ability to articulate complicated issues and ideas freely and eloquently in your own language.
As societies in Canada and world-wide become increasingly multi-cultural your new language can assist you in understanding the values and traditions of other cultures and conversely help you to view your own social and cultural values in relation to theirs. It will broaden your knowledge of politics, history and international issues and it will deepen your appreciation and enjoyment of art and literature.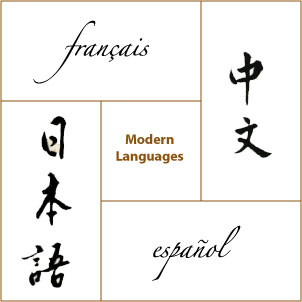 *Chinese calligraphy by Mr. Yim Xie.