Aug 13, 2018
By Jennifer Folkersen, Recreation Leadership Diploma Program Alumnus (2016)
My name is Jennifer Folkersen, and I am a Recreation Programmer II for the North Vancouver Recreation and Culture Commission stationed out of the Harry Jerome Recreation Centre. I have a large, diverse portfolio that includes oversight of a youth lounge and youth programs, registered and membership/drop-in fitness programs, child and adult sports programs and martial arts. The programs occur within three different facilities, Harry Jerome Community Centre, Memorial Gym and Mickey McDougal Gym.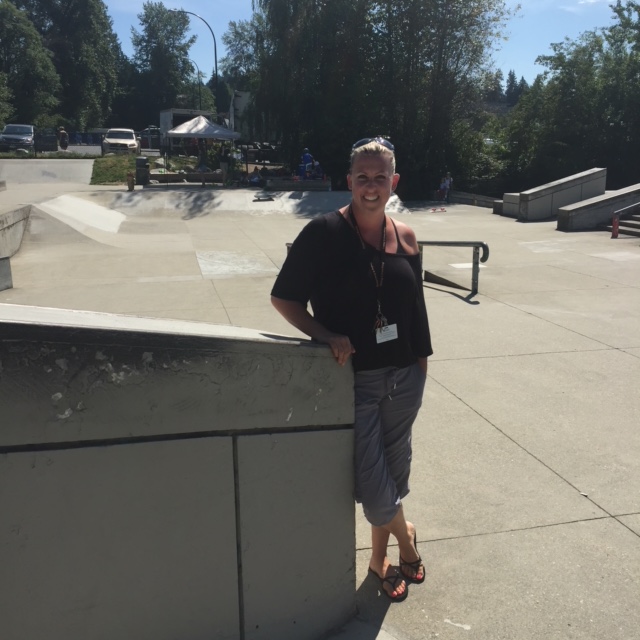 To get an idea of scope, I have over 45 Fitness Membership classes that run each week including group fitness classes, Cyclefit, circuit training, dance fitness and rehab fitness classes and over 70 registered fitness programs. In terms of sports programs, I oversee badminton, volleyball, basketball, rugby, soccer, ultimate and skateboarding, where we see more than 300 people a week in these programs. Our Youth Lounge is open 3 days a week and I oversee over 100 hours a month of staffing and programming. It is busy!

A typical day for me always starts with an initial plan. I tackle my phone messages and emails first thing and then make any necessary changes to our fitness schedules or sports schedules. I update our Schedule Force software for our staff which links into our staff payroll system. Once these quick tasks are complete, I walk around the buildings to check in on my instructors and programs and say hello to families and participants. Once a week, I meet with our Head Youth Leader for updates on our Youth Centre and participants. We are currently planning a new Youth Leadership Advisory Committee for the schools East of Lonsdale, so we are working hard to create a vision and strategy for this project. I am also part of three program service area committees including, Seniors, Youth and Intergenerational, Fitness and Sports program service areas. I am often on the run during the day traveling between community centres in these meetings. Each program service area has a work plan and projects associated that I continue to work on in the afternoon hours of the day.
Depending on the time of year, I am also creating programs, hiring and training instructors and entering programs into the system for the Leisure Guide. I am also involved in planning and supporting events around the City, such as City Fest; the North Shores largest Amateur Skateboard and Longboard Competition. You may even see me deep in a storage room arranging fitness and sports equipment, taking stats and or with my nose in a spreadsheet reviewing my budgets and forecasts.

I completed the Langara Recreation Leadership Diploma program in 2016 as a mature student with two young children. Because of my family situation and full-time work commitments, I completed the program over three years versus two as a part-time student. The program was the catalyst for me to be successful in my current role and career in recreation and it gave me the confidence to further pursue my education; I will be graduating with a Masters of Arts in Leadership in December of this year. This program is vital for anyone who is interested in pursuing a career of meaningful work in recreation.