Feb 13, 2018
By Dave McBride, Instructor
The 18 second year students in the Recreation Leadership Diploma Program have now completed the first 6 weeks of their 14 week Internships. They are located at a wide variety of public, non-profit and commercial recreation agencies throughout the Lower Mainland and Fraser Valley.

Each student is paired with an Agency Supervisor who provides in depth operational information on a variety of weekly focus areas including Agency Orientation and Administration, Human Resources, Program Services, Financial Management, Marketing and Public Relations, Volunteers, Sponsorships, Partnerships, Community Development, Facility Management and Building Operations.

In addition to completing weekly learning assignments and summary reflection reports which are reviewed by a Faculty Supervisor, the students contribute to the agency by working on a number of assigned tasks, projects and initiatives. They also play a key role in organizing, running and evaluating a special event for participants at the agency.
Here are comments from three students highlighting their experiences during the first half of Internship:

Sandip Gill – Newton Recreation Centre

The first half of internship has gone by in a flash. There have been many great learning opportunities, and it has been great meeting the staff at Newton Recreation Centre and connecting with employees at City Hall. The highlight of internship to date would be the opportunities I have had to meet and connect with various departments in the City of Surrey at City Hall. I've had the chance to meet and learn about departments including Volunteer Resources, Healthy Communities, Marketing, Human Resources, and Finance, as well as the areas of communications in the city, ESS (Emergency Social Services), purchasing and procurement, risk management, and apparel and brand consistency across the City of Surrey.
A lot of the new knowledge I have gained has been eye-opening, and has provided me a better understanding of how the city operates, and the hard work that goes on in the background to run recreation for the community. I am cherishing every moment of this experience, and taking advantage of any new opportunities that arise by keeping an open mind, being positive, and offering to assist wherever I can. I'm excited for the second half of internship, and what it has in store for me. I am glad I chose the Newton Recreation Centre as my internship agency, as it is in the community where I grew up, so I meet at least a couple familiar faces at the recreation centre everyday which is nice. My future career aspirations are to work for the City of Surrey, so this is the perfect fit for me and I wouldn't have had it any other way!
I've discovered that I really enjoy working at the front desk, as it gives me a chance to create meaningful connections with the patrons and interact with the public.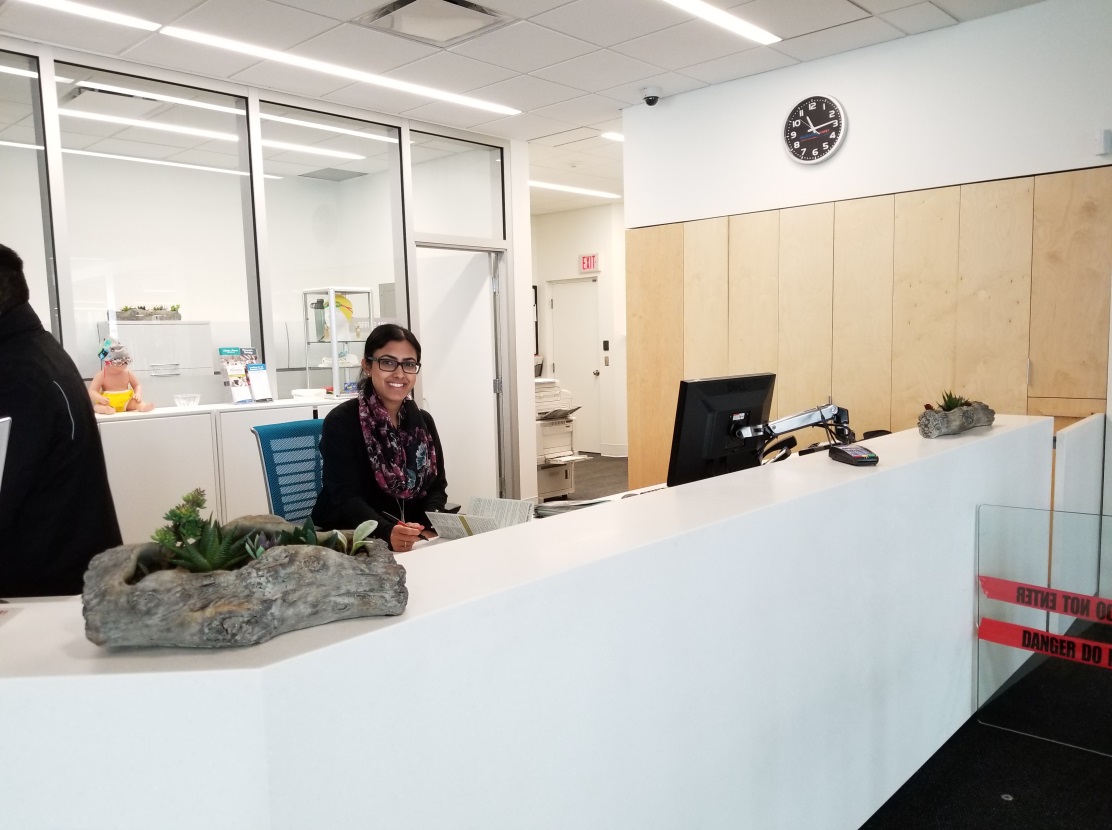 Sandip Gill ready to extend a warm welcome to visitors
Michele Cole – Trout Lake Community Centre

It's hard to pick one highlight of my internship so far as I'm enjoying the entire experience, however, I would like to share my experience teaching art classes. Art was a big part of my childhood and youth and being able to share these experiences with children has made me feel good. Last class I had a parent ask if I was teaching any other classes because she wanted to enroll her youngest with me. These experiences remind me why I love recreation and that I've made the correct career path. Overall, I've been learning a lot and gaining experience in all areas. I'm happy interning at Trout Lake Community Centre!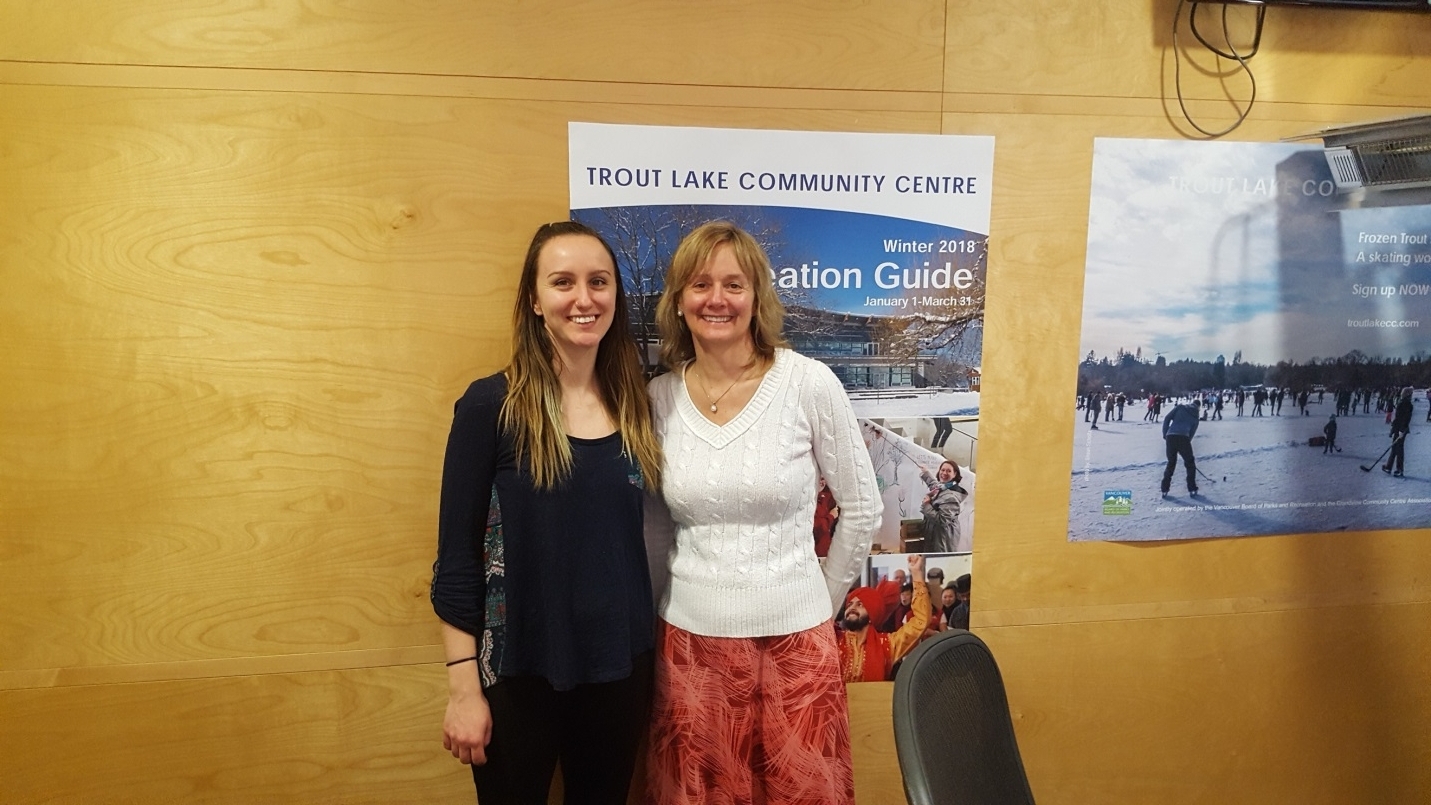 Michele Cole (left) with her agency supervisor Eva Srobotnjak. Eva has kindly hosted Langara Internship students for many consecutive years!
Ally Specogna – Tong Louie Family YMCA

My internship is at the Tong Louie, YMCA. I am working in the Children, Youth and Family Services. I help out in programs, and on my free time I make lesson plans and I'm currently working on a manual for the staff of the Children, Youth, and Families programs. The highlight from my internship so far is being able to work in the programs that the YMCA offers. Every Friday I help out in a program that has babies and kids, aged 0- 5 years old. This program is called Indoor Family Playground, and is a program that allows kids to run around and play in the gym. I help set up the space and get to play and meet new kids every week, I love working with children so that is something I look forward to every week. I also really enjoy how I can show off my skills and able to do an assignment that I am proud of doing, which is lesson plans. This may seem like a easy task, but I know that the YMCA will be using them after I leave and for years to come. It is my contribution to the Y after I leave. Even though my personal highlight is being a part of programs, I think the best highlight overall, is that I received the January Staff Star award for my hard work and dedication in what I do at the YMCA. It was completely unexpected and it really made me proud of what I am doing and what I will continue to do throughout my internship.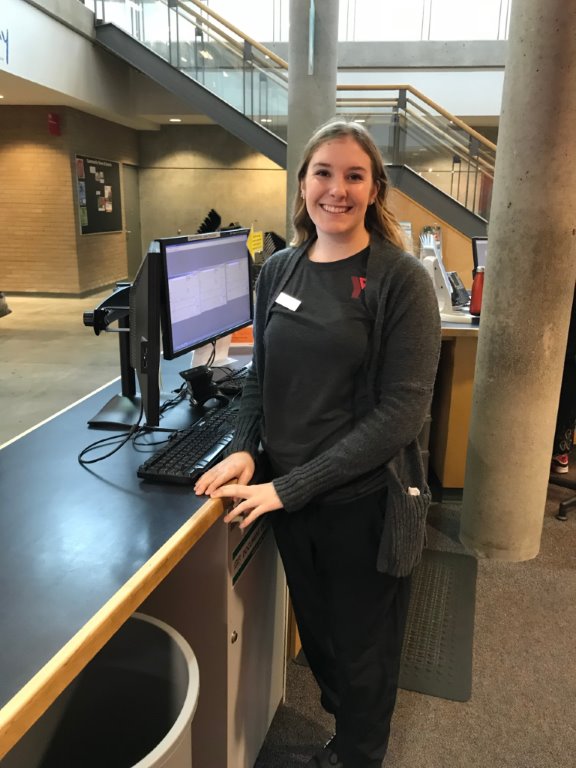 Ally Specogna practicing her office administration skills