Jan 30, 2018
By Janet Ready, Instructor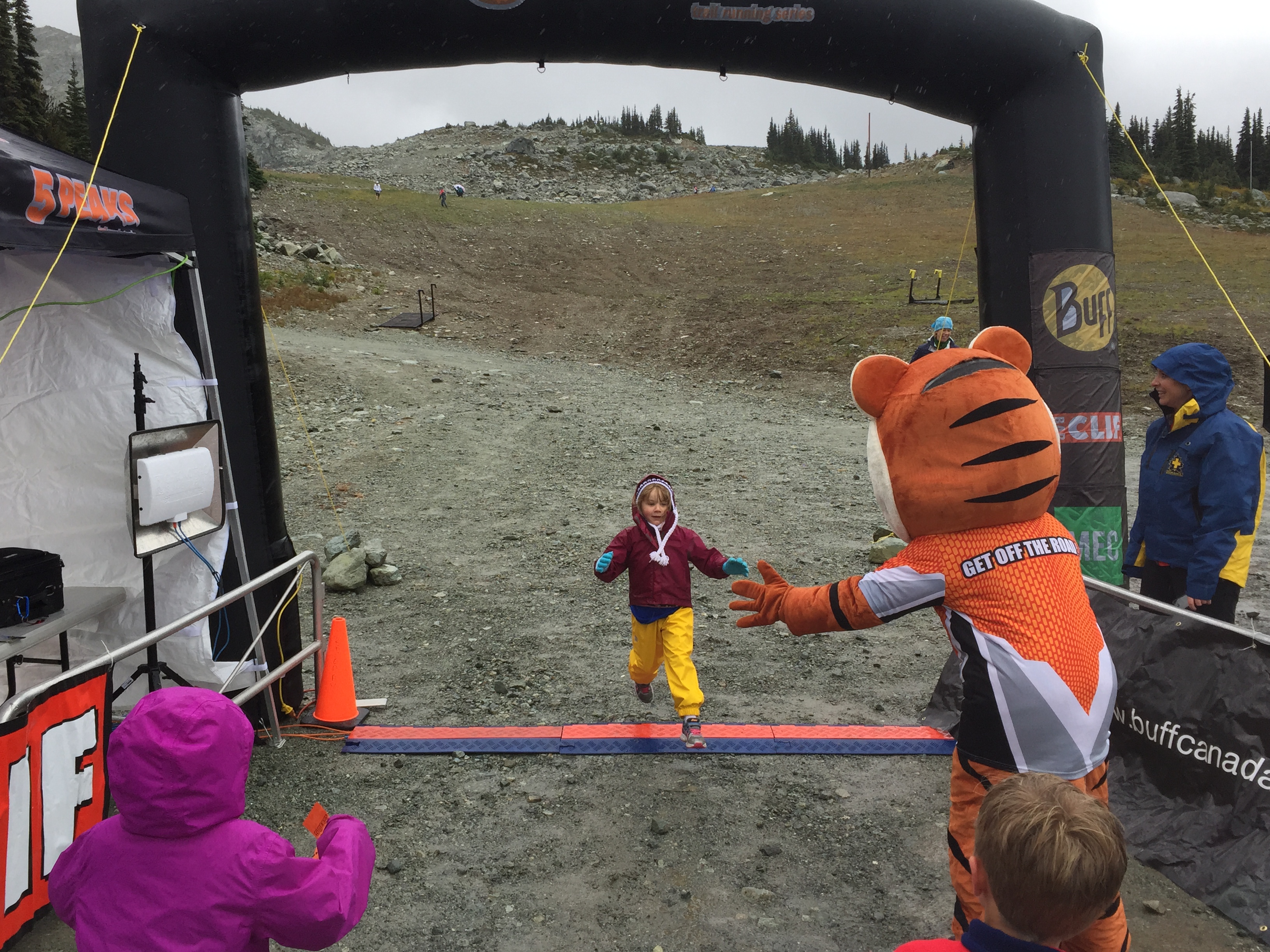 August 29th, 5 Peaks race at Blackcomb. I pictured a bluebird day – getting onto the Whistler gondola with my husband and daughters 5 and 7 years old in our running gear and sunglasses – getting off at the top of Whistler and riding the beautiful Peak to Peak gondola to the race start. I pictured a delightful, sunny, blue sky race.
A couple of days prior to the race, an email from the race organizer warned of bad weather – rain, wind and maybe snow. Be prepared.

The reality was worse. The morning of race day it was pouring down rain in Whistler village. We made our way to the Whistler Gondola and were met by the race organizers letting us know that the Peak to Peak gondola wasn't running because of high winds. Racers had to walk over to Blackcomb and upload on the chair lift. Adversity.

We walked over to Blackcomb in the pouring rain – got on the chair lift huddling under the lid, got off mid-mountain to get on another chair lift in the wind and pouring rain. More adversity.

We arrived at the top of Blackcomb – high winds, driving rain/sleet…..the Rendezvous lodge was under construction so no access. We followed the other racers to the closed Peak to Peak gondola station where everyone were huddled in the gondolas like a disaster survivor camp. Awesome – more adversity.

The kids raced the 1km. It was it was cold, raining and crazy windy. They ran in rain pants and toques and mittens. The start gate almost blew away, but the kids ran and they got it done. And they were proud of themselves at the finish line.

Then it was my turn for the big race – high altitude sport 8km race, there are usually two races, but the organizers had cancelled the longer race because of deteriorating weather conditions and safety concerns – visibility was closing in and hail-mixed rain was driving down. The race was uphill for the first 1km and the elevation kicked my butt.

Grit.

Adversity.

Human beings were made for adversity – if anyone sells you something else –don't believe them. It makes us alive, creative, resourceful. We are wired for it.

According to the Merriam-Webster dictionary, grit in the context of behavior is defined as "firmness of character; indomitable spirit."

Recreation is the vehicle to creating indomitable spirit, building character, and developing grit. Just ask any Recreation Leadership Diploma student about their Outward Bound Field course in RECR 1162…ask anyone who has woken up at 4:30am for a hockey practice, played soccer in the Vancouver winter rain, walked in the door of summer camp not knowing anyone, led a group of Girl Guides on a snowshoe hike with full packs into a mountain cabin, organized a community special event for the first time not knowing if anyone was going to show up, started an adult beginner ballet class having never danced before in his life, volunteered in the seniors centre because she was lonely and needed to feel a sense of belonging….

Recreation creates opportunities for grit and courage.

I know this – I can feel this on the run. It is hard work, but it is worthy work. It grows me and makes me better. And in a society that worships convenience and easy, it feels downright rebellious….and sacred.