Jan 1, 2018
By Matt Bains, BRM Mentor
Pura Vida! In Spanish, this literally translates to "pure life"; however, in Costa Rica, it is a greeting, mindset, and lifestyle that personifies living life in the moment, going with the flow, eliminating negative stresses, and "stopping to smell the roses". I lived the Pura Vida life in a recent month long trip to Costa Rica through a volunteer/cultural exchange program. This journey was the icebreaker for a time in my life that represents me travelling and seeing the world before I settle into a career. The four weeks I spent in Costa Rica challenged me both personally and professionally, and as a result, I have come home to Metro Vancouver a changed man who embodies the essence of Pura Vida.
During my time in Costa Rica, I lived in the town of San Ramon and from Monday to Thursday, I was a Physical Education Teacher at two elementary schools for students in grades one to seven. On weekends, we were encouraged to get out and experience the very best that the country had to offer. This meant (but was not limited to) weekend excursions to beaches, volcanoes, national parks, as well as local adventures that included farmers markets, city squares, and much more.
Monday's were one of my favorite days because after a day at school, I participated in an activity that I never thought I would do… Salsa and bachata dance lessons! During my first few days in Costa Rica, as part of our orientation weekend, the other volunteers and I went to a local disco, and as soon as we walked in, I saw people dancing to salsa, bachata, meringue, and other Latin dance styles. I was blown away by the passion of it all that I wanted to try it for myself… So I did (with what little knowledge and skills I had). After a couple of dances, my Program Coordinator saw how excited I was about this type of dancing that he recommended I register for salsa and bachata lessons at a local dance studio. With no hesitation, I did, and every Monday, I sweated, struggled, and had an amazing time with my roommates as well as complete strangers learning something new!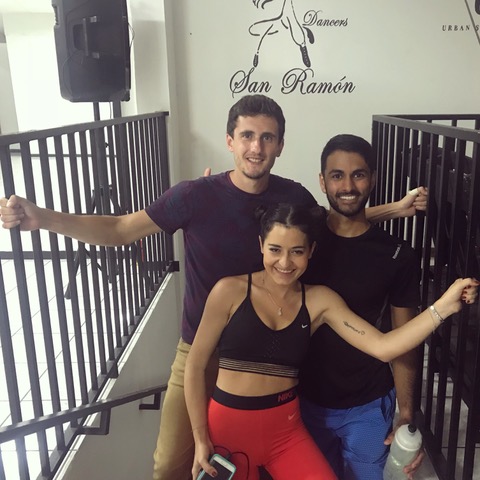 In the end, this experience reminded me that there are times where you want to have little to no expectations because you just never know what might happen. Before this trip, I did not think that I would learn salsa and bachata, but here I am! I was also refreshed on the significance of being open-minded and allowing myself to get outside of my comfort zone. Rarely does anything exciting or interesting happen when you are comfortable, so by keeping an open mind and having a willingness to be uncomfortable, you allow yourself to make the most of whatever opportunity is presented to you… This is where you get some of your best stories – Pura Vida!