Thanks to everyone who participated in this year's Nutrition Month. We look forward to celebrating again next year. In the meantime, check out the below for useful tips and information to help you achieve your health and nutrition goals. 
---
March is Nutrition Month and it is recognized across Canada – including here at Langara!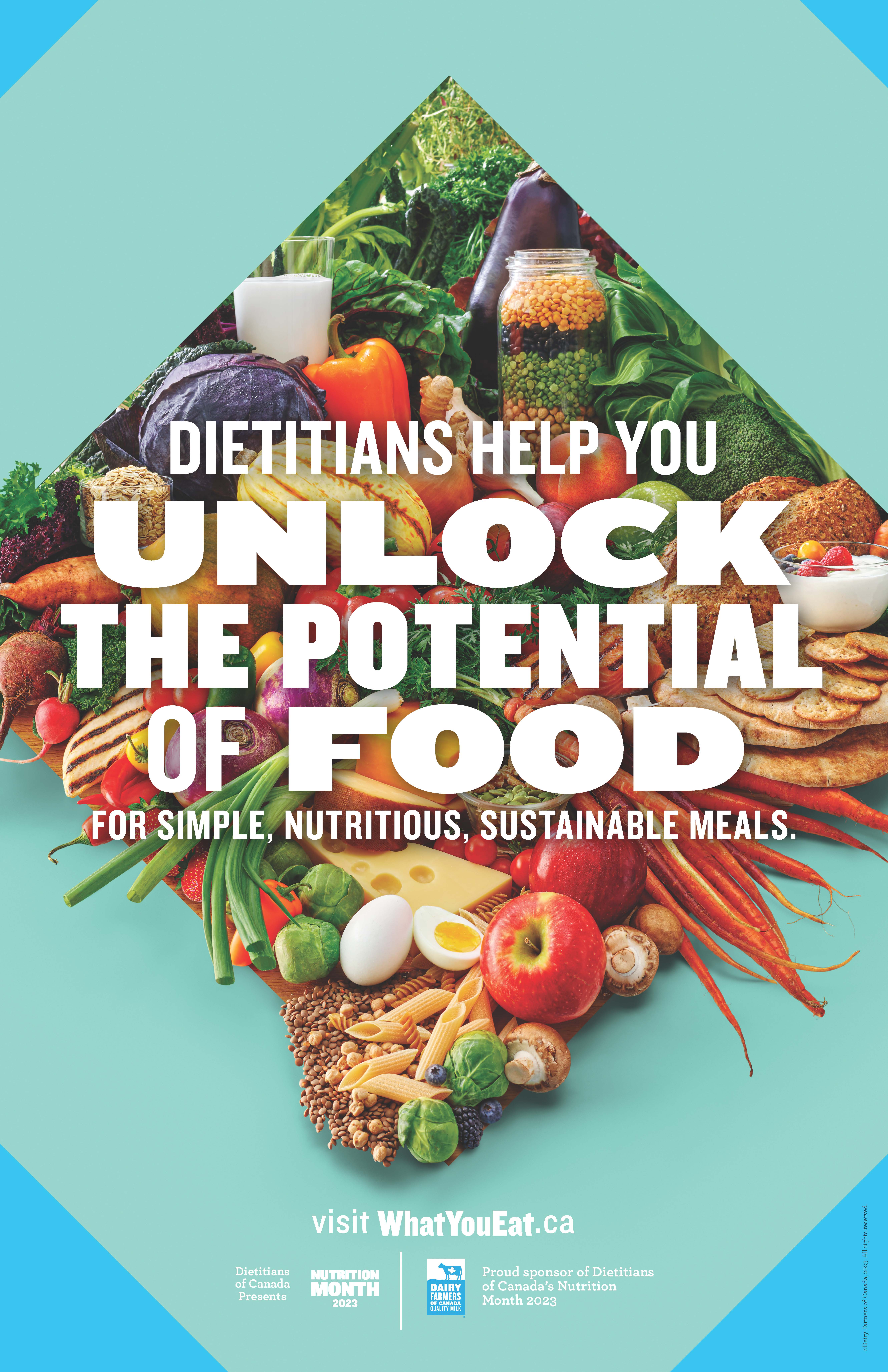 The month provides an opportunity to draw attention to a particular facet of nutrition as highlighted by the Dietitians of Canada. This year's theme is 'Unlock the Potential of Food' with the aim to help Canadians learn how they can access a dietitian and to demonstrate how working with a dietitian can help them unlock the potential of food.
The Langara community is invited to join in the events planned for this month. Spread the word with others in the campus community and learn how dietitians can help improve your health, energy, and vitality!
There is also a great collection of resources for those interested in learning more about the benefits of working with a dietitian and how to unlock the potential of food. Read on to learn more!
---
Are you smarter than a dietitian?
Test your knowledge to see what you might already know and what you might want to learn more about!
---
UnlockFood.ca
Dietitians are passionate about the potential of food to enhance lives and improve health. They look beyond fads and gimmicks to deliver reliable, life-changing advice.
Visit unlockfood.ca to access information about:
What dietitians do
Find a dietitian
Browse nutrition articles by topic
---
Cookspiration
Be inspired to cook any time, day or night with Cookspiration, created by Dietitians of Canada. Recipe ideas are served up to suit your mood and schedule. Also, don't forget to try the all new My Menu Planner tool!
---
WhatYouEat.ca
The Registered Dietitians at Dairy Farmers of Canada provides this website of articles and recipes compiled by a team of Canadian dietitians working in agriculture and who are passionate about helping Canadians eat well to support their health and the environment. 
---
Community Cupboard Program
The Community Cupboard Program provides support to Langara students who may be facing food insecurity with up to one week's worth of non-perishable food items per student. Students can access this food program up to once per month by completing an application form under "Apply for Community Cupboard."
---
Canada's Food Guide
Be sure to check out these healthy eating recommendations as compiled by Health Canada. These guidelines and considerations are based on the best available scientific evidence. 
---
Interested in learning more about our programs?
---
Connect with us on social media!
Nutrition Department
Langara Nutrition Club