Feb 11, 2015
Vancouver, BC – The Canadian Nursing Student Association has become an integral part of Langara's Nursing students' experience. Janine Lennox, Langara's Nursing Department Chair, has encouraged students to take on leadership roles in this national organization to help gain valuable administrative experience in healthcare. Her mentorship has lead to Langara hosting both the Regional and National CNSA conferences in 2013 and 2014.
The objectives of the CNSA are to influence and advance innovation in nursing curriculum and research. It is our nursing students' primary resource for learning professionalism, leadership, and advocacy.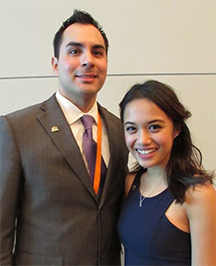 Our students recognize the great benefit of this opportunity. Terrace Desnomie, term eight nursing student, was recently elected by the CNSA National Assembly to the role of Vice-President for the 2015-2016 term. His responsibilities include supporting research initiatives for members across Canada, chairing the Awards committee, and serving as Student Representative on the Board of Directors of the Canadian Association of Schools of Nursing (CASN), the organization that outlines the guiding principles and essential components for undergraduate and Master's in Nursing Education.
"It is a tremendous opportunity to reach out to and work with so many great nursing students and nursing programs from across the country. I am excited and honoured to be selected," says Desnomie. "I have a considerable knowledge base when it comes to promoting professional development from my previous careers. This opportunity is the best of both worlds for me: it is committee work that celebrates the advancement of our profession. My plan is to use my existing experience and current relationships with First Nations health organizations to meet the CNSA's objectives."
Last year, Tonie Castro, term eight Nursing student, found her place on the CNSA's Board of Directors by putting her computer technology experience to good use in running for Informatics Committee Chair. She won the position and was asked to be the CNSA student representative on the Canadian Informatics Association Executive Board.
"The experience of meeting different kinds of nursing students/leaders across Canada is amazing," says Castro. "It is very humbling to see what other people are doing. I gained confidence, improved my professionalism, and networking skills. Attending conferences and meetings across Canada is also fun," added Castro.
This year Castro was elected to the CNSA Director of Communications position, and is the student representative on the Canadian Federation of Nurses' Union's Executive Board.
"Active communication is key to anything in life, whether it is for work, school, relationships, and more," adds Castro. "There are so many problems that could have been resolved with proper communication. The director of communications also supervises the informatics committee chair, which is a great transition for me. I strongly recommend that students believe in themselves and take chances in life. Do something you are passionate about and share your skills."
Zainab Alwarid, term eight nursing student, was offered a position on the National Team to represent the Western region in a debate and in simulation wars at the 2015 CNSA National Conference.
The debate topic was physician-assisted suicide, which prompted the team members to examine their own beliefs.
"In health care, it is crucial to increase our awareness regarding our values and beliefs and how these may influence our provision of quality patient-centred care," says Alwarid.
In the simulation wars, nursing students and medical residents were divided into teams to collaborate with one another to run simulation scenarios. The object was to provide a learning experience for working in interdisciplinary teams, and to become comfortable with making appropriate healthcare decisions in the various scenarios.
"Interdisciplinary simulations help students in health care to improve as team players. This positive change is related to an increased comfort level in collaborating with other interdisciplinary team members via practice, increased awareness of role interaction, and challenging beliefs about one's own discipline and other disciplines. As a result, interdisciplinary simulation helps us become leaders in improving the provision of quality patient care," says Alwarid.
Lennox has been recognised with an honourary award for her support and mentorship of the Langara students who have taken on leadership roles in the CNSA organization, and in hosting the CNSA Regional and National conferences.
Media Contact:
Wendy Watson
Communications Officer
Langara College
604.323.5884  |  wwatson@langara.bc.ca