Dec 1, 2011
Current Term 10 students Janelle Currie and Rashel Lim presented a poster at InspireNet on November 7th. The knowledge they shared pertained to the policy they created, as Term 9 students, on the verification by RN of expected death at a hospice.
Langara Health Services along with Term 7 Nursing Students collaborated to organize the Langara Health Fair that happened on November 16th, 2011 at the main foyer. The Live Life, Live Healthy, Fall into the Winter Wellness Health Fair 2011 focused on staying healthy by preventing the flu. A total of fourteen exhibitors, including Dan-D-Pak, Anxiety BC, Tobacco Reduction and more participated in helping to promote health which contributed to the success of Health Fair 2011.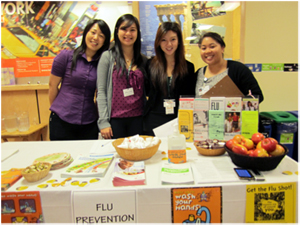 The window display outside of Langara Health Services depicts a picture of what could possibly happen to an individual this influenza season. There are several pictures that display a series of events that lead to the individual's change in health. The window display is presented by Term 7 students, Ping Zhao and Josephine Seto.
Sharon Stunder and a nursing colleague from the University of Canberra, Australia have had a chapter titled Cooperative and work-integrated education in Nursing published in the recently released 2011 second edition of the handbook titled, International Handbook for Cooperative and Work-Integrated Education: International Perspectives of Theory, Research and Practice. The editors are Richard K. Coll and Karsten E. Zegward from the University of Waikato, Hamilton, New Zealand.
An interesting aspect of the chapter is reference to Dedicated Nurse Education (DEU) units developed at Flinders University South Australia and adopted by health services partnering with the University of Canberra, Christchurch Polytechnic Institute of Technology and University of Portland. The DEU model for nurse education has heterogeneous groups of first, second and third year students engaged in the work of health service teams or communities, and held accountable for assigned tasks. Students learn from peer learning as well as from staff.
Jennifer Timer published with an article in Nurse Education Today titled: The use of selective admissions tools to predict students' success in an advanced standing baccalaureate nursing program, by Jennifer E Timer and Marion L. Clauson.
One of our now graduated students, Leah Liang attended the Canadian Nursing Students Association conference in Hamilton, Ontario in January. She was fully funded through BCNU for this event. Leah identified the value of attending this conference as contributing to her understanding of professional nursing issues. She presented a summary of the sessions she attended to her classmates in April, 2011.
Faculty members who have presented at recent local, national and international conferences include: Sharon Ronaldson and Wanda Pierson as well as Veryl Tipliski and Janine Lennox at WRCASN held here in Vancouver in February 2011, Hana Pecinova and Janine Lennox at the Ethel Johns Research Forum. Lillian Alexus and Pat Woods at the CASN Academic Leadership conference in Quebec City in May and Pat Woods in New Orleans.
Many thanks to all those who participated in the Breakfast TV episode celebrating Nurses Week on May 9, 2011. Students, faculty and staff collaborated to inform the BTV viewers about nursing education at Langara College. Follow this link to view the You Tube video: http://www.youtube.com/watch?v=RtrPzLXIAoc
TERM 10 CELEBRATION
Thanks to all the faculty who came out to say congratulations to our graduating term ten students. Also, a big thanks to Gail Bremer for organizing such a smooth and comfortable term 10 celebration.
Josh Tomlinson and Courtney Bercan were awarded with the Irma Mucil Award.
Evelyn Liu received the award ' The nurse that I would like to care for me or a member of my family'. Award was presented by Bow Lee.