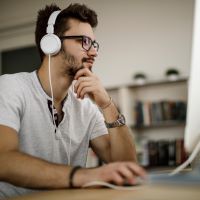 What Can I Do to Practice Academic Integrity?
Students may feel very anxious about making sure that they are completing coursework and meeting instructor expectations with integrity. Here are several tips or ideas that will help students make sure that they are keeping themselves in good standing.
Tips for Avoiding Academic Misconduct
Preparation and Keeping Track of Your Work
Give yourself the gift of time.
It may seem like cliched advice but starting assignments early and working on them over a longer period is one of the best ways to set yourself up for success. Many academic integrity violations are born out of desperation or procrastination. If you start your assignments early, you'll be able to make sure to give yourself time to clear up any questions about assignment instructions. For help with time management, check out the resource page at the end of this guide.
Pay close attention to assignment descriptions and your syllabus.
Instructors will usually write detailed descriptions of your assignments within the syllabus for the course, on additional handouts, or within Brightspace. Pay very close attention to the instructions provided for assignments. Read them carefully and highlight, underline, or make note of particularly important things you fear you might miss.
Ask for help before you get in trouble.
Sometimes, even if you have read an assignment's instructions carefully, you might still have questions about completing the assignment according to your instructor's expectations. For example, are you able to work with a group on an assignment or are you meant to complete it alone? Is there a specific citation style that your instructor prefers? If you make sure that you fully understand your instructor's expectations before you start the assignment, you have a much better chance of acting with integrity. 
Using Sources Correctly
Plagiarism refers to the presentation of words and/or images and/or ideas from another person or source as if they were one's own. In many cases, plagiarism occurs because students were not fully aware of how to put together sources in their assignments. Lacking proper citations, failing to add quotation marks, or paraphrasing inappropriately can all lead to instances of plagiarism. Here are some tips that will help you avoid plagiarism.
Keep careful track of your sources as you use them.
Taking notes about your sources as you read them will help you remember what pieces of information came from which source. This way, if you ask yourself the question "Where did this come from?" you'll already know!
Be careful when direct quoting a passage from a text.
When you are using an author's words in exactly the order they used them, you need to let your reader know exactly which words are not yours. You indicate this by putting quotation marks around the direct quote (for example, "To be or not to be.")
Be careful when paraphrasing another author's ideas.
In academic writing, you will likely have to change the exact words of a source while still using the information it provides. In this case, you are paraphrasing the original source – taking the information and putting it into your own words. In these cases, make sure that you are still including proper citations and indicating which ideas belong to someone else.  
Learning How to Cite Your Sources
The first time you put together citations, it may seem very confusing. Citation is an important part of completing research assignments because scholarship is a conversation. Your citations tell your reader which scholars you are listening to, learning from, and analyzing in your research. Citation gets easier with practice, but here are some tips that will help you think about citation practices.
You don't have to memorize the rules of citation styles.
It is important to know that there are different manuals and specific rules for citation. The three most common are the Modern Languages Association (MLA), the American Psychological Association (APA) and the Chicago Manual of Style (Chicago). You will almost never be in a situation where you have to memorize the rules of citation – you should have access to guides and other resources as you complete your assignments to help you put your citations together.
Be very detail-oriented when it comes to citation.
It may seem silly, but citation styles do have very specific rules about capitalization, punctuation, and the order information about a source appears. You should always compare your citations against the citation guides to make sure that every detail is in exactly the right place. 
"Throughout the term, you may experience stress from trying to balance a busy schedule and heavy workload. It's important to not cave to this pressure and instead continue to persevere and work hard to achieve your academic goals." – Adam Y
You can use citation generators, but do not trust them completely.
There are many online services or internal database tools that will put together your citations for you. These will save you a lot of time, but they are not perfect. Sometimes, they will not have all the right information, format the citations in strange ways, or not comply exactly with the style manuals. Always make sure you double-check your citations against the guides to make sure that your citations are perfect.