Pulling Together.
Sep 17, 2016
Saturday morning, a big crowd gathered at the UPS near the Vancouver International Airport for the 3rd annual United Way UPS Plane Pull. Businesses and organizations were challenged to create a team to fundraise for the United Way, and to gather together to pull a 127,000lb Boeing 757. Langara created a team of 15 administrators, faculty, and students. Together, they raised $2,585 towards this year's United Way campaign. Great job everyone!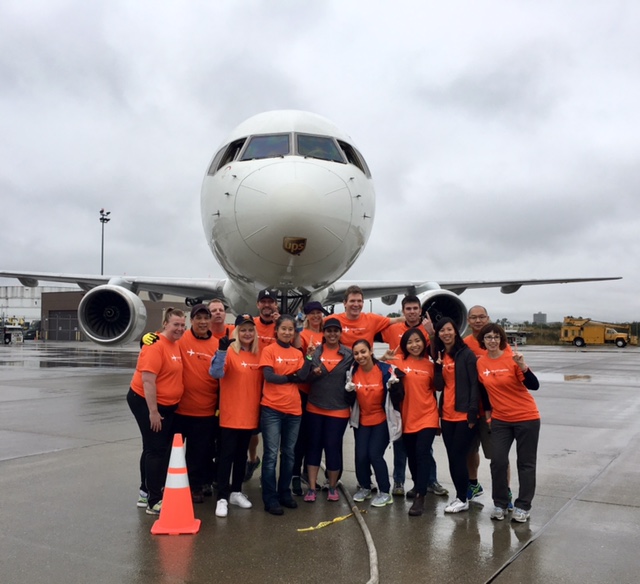 The Langara Plane Pull Team - From left: Moira Gookstetter, Raymond Chow, Garnet Klatt, Sandra Sherman, Michael Koke, Alice Hsu, Jennifer Reid, Jasmin Sajjan, Lane Trotter, Manar Elbarbari, Emily Chen, William Ibbot,  Celine Huang, Justin Yau, Joanne Rajotte
---
Bingo!
Jul 22, 2016
July's Bingo was exciting and thrilling for all who played. We raised $200 towards our United Way campaign. The lucky winner was Gemma Oropesa from Continuing Studies who won $50. Congratulations Gemma! Watch out for our fall Bingo for another chance to win!
---
A Good Combo.
Jul 13, 2016
The weather was perfect for yesterday's annual summer barbecue and rubber duck race. After a very exciting neck-to-neck (or should we say "wing-to-wing") race down the last few metres of the watery course, lucky duck #121 (Joanne Rajotte's) crossed the finish line first. However, in true giving spirit, Joanne declined the $50 prize money and it was awarded to the second-place duck that belonged to Mary Danieli from Library Services. A big congratulations to Mary Danieli! And a bigger thanks to all the volunteers who came out to make this day a spendid success. Together, we raised $768.70 for the United Way of Lower Mainland.