November 28, 2013
We would like to thank those who came out to visit Santa and supported the United Way by posing with him.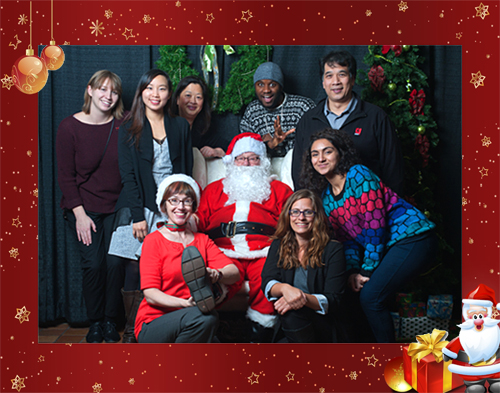 2013 United Way Committee 2013
Back L to R: Andrea Demers, United Way Loaned Rep, Amelia Lau, Elizabeth Chong, Isi Oboh, Raymond Chow
Front L to R: Joanne Rajotte, Santa, Megan Richardson, Nova Sekhon
Missing: Jade Arignon, Alan Brain, Kristine Nellis, Jackie Scheepbouwer and Doreen Sharan.
---
November 25, 2013
Lucky Lisa Fisher has won this month's Bingo Jackpot of $208.
Congratulations!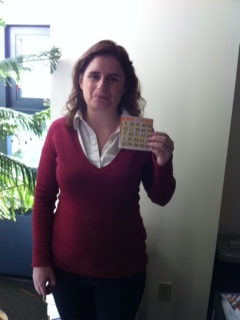 ---
October 30, 2013
Congratulations to Joyce Forrester and Lisa Fisher for winning the BINGO Jackpot! They shared the prize of $265 (50% of $530). Thank you to everyone who played! Don't forget to come back for the next round of BINGO starting November 12, 2013 for another chance to WIN BIG.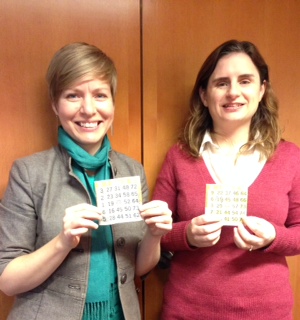 ---
October 10, 2013
Back to school, and a month into the fall season, it means the United Way campaign is officially kicking off. We are starting off strong this campaign season this with our second Rubber Duck Race and Hot Dog Sale. New this Fall was the introduction of the "Banzai Dog", a Japanese-inspired concoction consisting of a smokie hot off grill topped off with teriyaki sauce, Japanese mayonnaise, caramelized onions, and sprinkled with seaweed. The student Kendo club helped us serve up the delicious take on the classic smokie.
The Rubber Duck Race went without a hitch, with 200 duckies vying for top place as they raced through the water of the Langara reflecting pond. In the end, it was lucky duck #147 that beat out the rest. Owner of duck #147 and winner of the $50 top prize is Paola Piovesan. Congratulations Paola! 
Altogether, we raised over $1,200 for the United Way Campaign today. Thank you to everyone who came out to support us!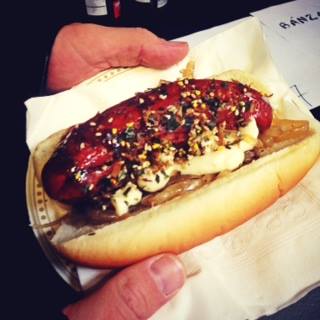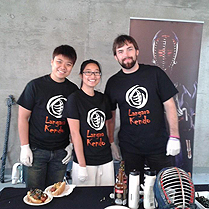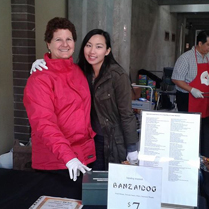 Photos: D. So and V. Wang
---
July 11, 2013
We held our first United Way events of the year, combining the popular rubber duck race with a smokie barbecue lunch, where our volunteers served up smokies with all the fixin's to hungry crowds on the front lawn.

On the west side of the lawn, 200 rubber ducks were released into the wild, and though it was a close race, it was Kaveh Sanjabi's duck #173 which was the first to cross the finish line.
Thank you to all of our volunteers for helping out during the day, and congratulations Kaveh!