Our brand identity is more than just a logo. It is an articulation of who we are, what we believe in, and what makes us so special. It is bright, inclusive, optimistic, and smart, just like our College.
It is the embodiment of our core mission to provide accessible, comprehensive, current, and innovative education that meets the needs of our diverse community. It reflects our commitment to a learning and working environment characterized by encouragement, free enquiry, integrity, mutual respect, professionalism, recognition of achievement, and social responsibility.
The college of higher learning.
To us, higher learning means more than just textbooks and lectures. It's a focus on high-quality teaching and getting to know every one of our students. Learning comes from formal education, social interaction, problem-solving, teamwork, and a multitude of other experiences. It is these experiences that prepare our students for the next stage in their lives.
"The college of higher learning" is the springboard for our creative platform – the notion that education is really about sharing knowledge and that one of the best ways to do this is through creating dialogues – among students, between instructors, students, the institution and the public. Through words, colour, and images, it celebrates the exchange of ideas and discourse. It challenges the audience to engage, question, and start a dialogue.

Langara and Musqueam
Langara acknowledges its location on the unceded traditional territory of the Musqueam people, and is working hard to develop strong connections between Musqueam and the College.
We are honoured to have received the name snəw̓eyəɬ leləm̓ from Musqueam. The name means house of teachings, and references the advice given to a child to build their character and to guide them into adulthood. The name was given to us in January of 2016, in a ceremony led by the late siem Henry Charles, who was a great friend to the College. Our name is pronounced sa-nay-with lay-lum (listen to the pronounciation). 
It is our responsibility to move forward, build trust, and to put reconciliation into action. One step on that path is our dual logo branding system.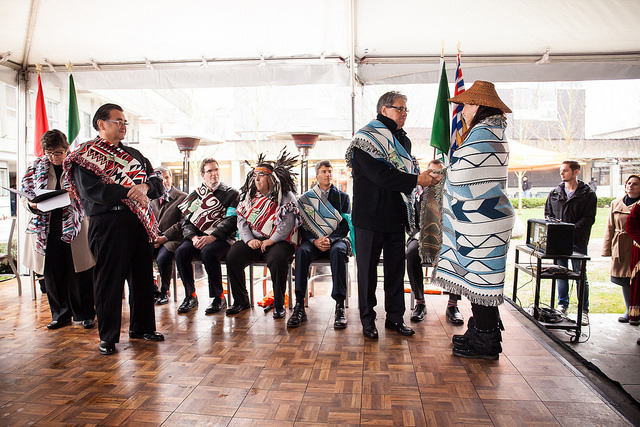 Musqueam bestow name on Langara College, January 11, 2016.