Mar 15, 2023
Vancouver, BC – Langara Falcons men's basketball Head Coach Paul Eberhardt, who took a one-year sabbatical from coaching, announced today he will be retiring from coaching at the post-secondary level.
"I am so appreciative to have had the opportunity to coach at Langara," said Eberhardt. "A huge thanks to Jake McCallum and the entire athletic department for all their support and encouragement over the past ten years."
Eberhardt spent nine seasons as the Falcons bench boss, amassing an overall record of 132-68 and highlighted by a Canadian College Athletic Association (CCAA) National Championship in 2014. He also led the Falcons to a CCAA Bronze in 2013 and two PACWEST conference championships. He was named CCAA Coach of the Year in 2013.
"I have so many amazing memories from my time at Langara," said Eberhardt. "The 2014 National Championship team will always be one of the most special of my career."
Prior to his time at Langara, Eberhardt was the head coach at Capilano University where he led the Blues to a Provincial Championship in 2003. He has also coached high school basketball for four decades, winning the AAA BC Championship title in 2011 with R.C. Palmer Secondary. Eberhardt's current squad, West Vancouver Secondary, finished 10th at the BC AAAA Championship this past weekend.
"We were very fortunate to be able to have Paul guide our program the last ten years," said Jake McCallum, Director of Athletics and Student Engagement. "He is an extremely passionate coach who brought a wealth of experience that that served our student-athletes well." 
The search for Eberhardt's replacement will begin immediately.
About snəw̓eyəɬ leləm̓ Langara College 
Located in beautiful Vancouver, B.C., Canada, snəw̓eyəɬ leləm̓ Langara College provides university-level education to more than 19,000 students annually. With more than 1,700 courses and 130 programs, Langara's expansive academic breadth and depth allows students of all ages, backgrounds, and life stages to choose their own educational path. Langara is also known as snəw̓eyəɬ leləm, 'house of teachings', a name given to it by Musqueam, on whose unceded traditional territory the College is located. 
Learn more.   
Mark Dawson   
Manager, Public Affairs   
Langara College   
mdawson@langara.ca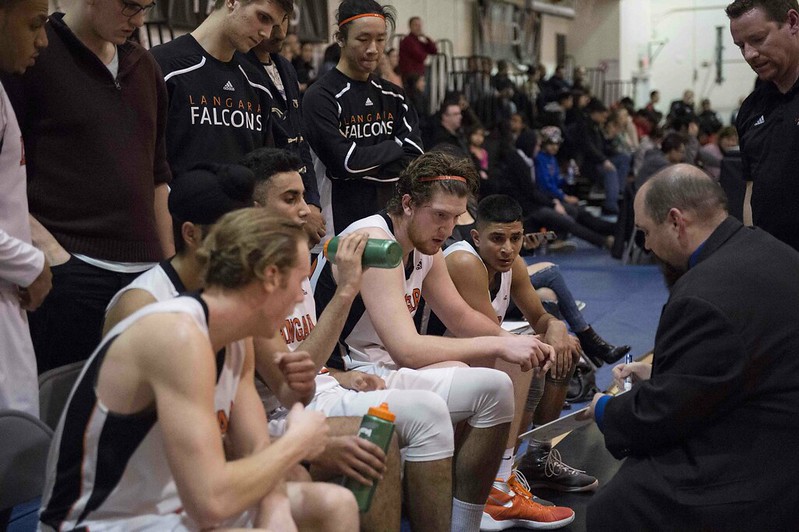 Coach Paul Eberhardt talks to the Falcons during a time-out.