Apr 22, 2021
Vancouver, BC – Embracing the unusual circumstances of 2021, the Langara Design Formation Department graduating class built their graduate showcase in a virtual gallery. This is not a website, but rather an immersive online space through which participants can not only see students' work, but physically explore a world designed entirely by the students.
Beginning with a juried competition, the students researched physical exhibits and architecture as case studies, developed conceptual graphic arguments and presented their ideas. The students and the faculty voted on a winning concept and presentation. From there, the class divided into small teams — Project Management, Architecture & Experience, Content & Curation, Graphic Design, Web Design, and Production - to build the exhibit. Working with Active Replica, a virtual event hosting company, the exhibit is now accessible to anyone in the world with a laptop and an internet connection.
In addition, some of the Design Formation students worked closely with the Langara Photography Department to develop a unique virtual space for their graduate show. This space, designed by the DF students in collaboration with the Photography faculty and students, creates a world to see and interact with the photographers' work.
While we all miss the ability to celebrate graduation in person, the students were able to capitalize on the benefits of this platform. Because they built the world from scratch, the entire space is entirely concept driven. The architecture was generated from the graphic concept, without the constraints of budget or gravity.
The spaces will be open and available through the end of June 2021. To visit a virtual world entirely conceived, designed, and built by the class of 2021 Design Formation students, follow these links.
The Design Formation gallery is here: https://activereplica.io/WVo2Pfb/langara-df/
The Photography gallery is here: https://activereplica.io/gh2KzWe/langara-photography/#
More information about the work is available here: https://www.continuumgradshow.com/creationprocess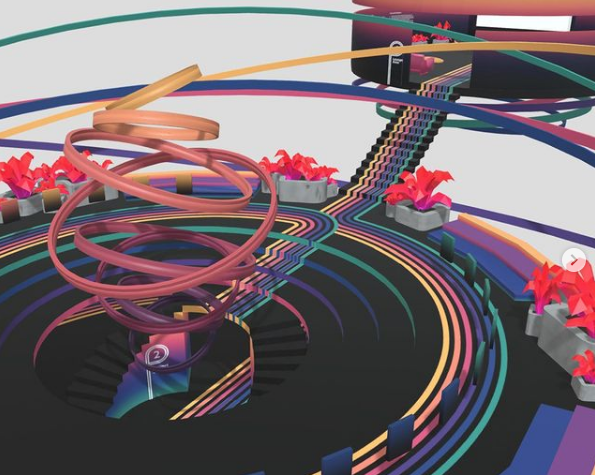 About Design Formation
Design Formation is a two-year, multidisciplinary foundation design program that prepares students for further specialized studies or entry-level jobs in fields ranging from visual merchandising to event, graphic, or interior design. We aim to promote a comprehensive understanding of the design process and expose students to various aspects of the field. This allows graduates to explore their own creative path with a broad set of skills and experience. Students graduate with a diploma and a professional exit portfolio. Equipped with a wide range of practical skills and knowledge, students can choose to enter the workforce at an entry-level, or continue with further studies in design.
About Langara College
Located in beautiful Vancouver, B.C., Canada, snəw̓eyəɬ leləm̓ Langara College provides University, Career, and Continuing Studies education to more than 23,000 students annually. With more than 1,700 courses and 130 programs, Langara's expansive academic breadth and depth allows students of all ages, backgrounds, and life stages to choose their own educational path. Langara is also known as snəw̓eyəɬ leləm 'house of teachings', a name given to it by Musqueam, on whose unceded traditional territory the College is located.
Mark Dawson 
Manager, Public Affairs 
mdawson@langara.ca