Feb 12, 2020
Vancouver, BC – Langara College signed an agreement with Simon Fraser University (SFU) on February 6 making it easier for Indigenous students to transfer seamlessly from the College to the university as they pursue degrees starting in September 2020. The SFU-Langara Indigenous Transfer Pathway facilitates student transitions between the two institutions and supports learners through specified admission requirements and entrance awards.
"This partnership will create better opportunities for Indigenous students and allow our institutions to work in partnership with the Indigenous community to meet their educational goals," said Dr. Ben Cecil, Langara Provost & Vice-President, Academic and Students. "It demonstrates the need to share resources and rethink ways to facilitate greater numbers of Indigenous students attending our schools. We look forward to working closely with students to ensure they are well prepared for their transition to Simon Fraser."
"The dedication and hard work of both Marcia Guno, director of the Indigenous Student Centre at SFU, and Richard Ouellet, Director of Indigenous Education and Services at Langara College, in helping develop this pathway, embodies the strength of collaboration and the determination to improve transitions from Langara to SFU for Indigenous students," said Jonathan Driver, vice president and provost, Academic, SFU. With this new pathway, Langara and SFU hope to create an even better understanding of the needs of Indigenous learners starting this fall. The agreement includes commitments from both institutions.
Langara will support Indigenous students by:
communicating information on available SFU courses and programs as well as any academic and admission requirements
registering eligible Indigenous students to assist in their successful transition to SFU
providing information on potential entrance awards that may be available to eligible students
forwarding student names (with permission) to SFU for flagging in the SFU admission process
facilitating SFU recruitment initiatives at Langara
SFU will support Indigenous students by:
maintaining accurate public information about the Transfer Pathway on a dedicated website
providing opportunities for Langara students to visit the SFU campus, meet with staff in the SFU Indigenous Student Centre, attend student recruitment fairs at Langara, and meet with Student Services and Faculty advising and recruitment representatives
providing up to five Aboriginal Student Entrance Awards to eligible SFU students
In 2015, Langara established a similar transfer program for Indigenous students with the University of British Columbia. The UBC-Langara Aboriginal Transfer Partnership gives Indigenous students the option to transfer into a wider variety of UBC faculties and aims to increase the number of students who transfer each year. It also eases the coordination of student services and supports, including the allocation of scholarships and bursaries worth $10,000 per year at Langara and $20,500 per year at UBC.
About Langara College
Located in beautiful Vancouver, B.C., Canada, snəw̓eyəɬ leləm̓ Langara College provides University, Career, and Continuing Studies education to more than 23,000 students annually. With more than 1,700 courses and 130 programs, Langara's expansive academic breadth and depth allows students of all ages, backgrounds, and life stages to choose their own educational path. Langara is also known as 'house of teachings', a name given to it by the Musqueam people on whose unceded traditional territory the College is located. Langara is celebrating its 49th year on West 49th Avenue with Beyond 49, an integrated celebration, alumni engagement, and fundraising campaign to reconnect with alumni, and raise funds for student support and important College initiatives.
Learn more.
Mark Dawson
Manager, Public Affairs 


604.323.5702
mdawson@langara.ca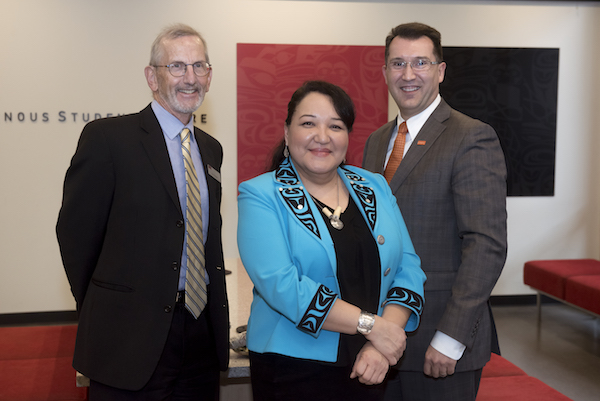 PHOTO: From left, Jonathan Driver, SFU vice president, Academic, and provost; Marcia Guno, director of the Indigenous Student Centre at SFU; and Ben Cecil, provost and vice president Academic and Students at Langara College.