Jun 24, 2019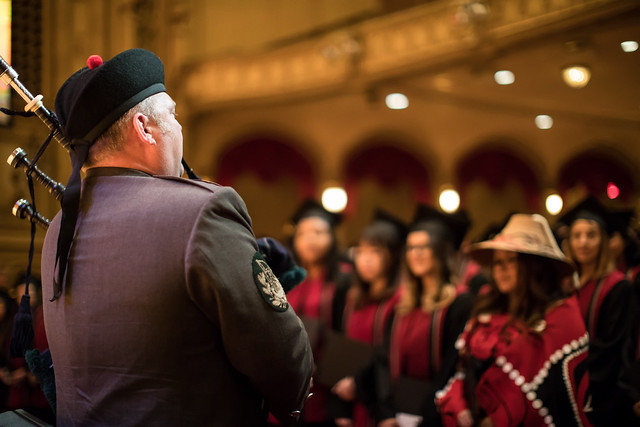 Vancouver, BC – Langara College's convocation ceremonies were held at the Orpheum Theatre, on June 20 and 21, 2019. A record number of graduands – over 1,300 – crossed the stage in four ceremonies and were conferred with bachelor degrees, associate degrees, diplomas, certificates, citations, and post-degree diplomas and certificates. 
The graduand processions were led into Convocation Hall by piper Mike MacDonald, followed by the faculty and platform party led by Musqueam singer and drummer Christie Lee Charles. Singer Synthia Yusuf opened each event with her rendition of the national anthem, Oh Canada.
Seven of our graduates received awards for their outstanding academic achievements and commitment to community service. 
Langara proudly announced the conferral of the 2019 Emeritus Awards celebrating distinguished service. Emeritus is an honourary title given to retiring or retired faculty or professional staff to recognize their outstanding contribution to teaching, service, or leadership in an organization. This year's recipients were:
Deanna Douglas – Vice-President Emerita, Administration and Finance
Cheryl McKeeman – Faculty Emerita, Mathematics and Statistics
Peter Norwood – Faculty Emeritus, Langara School of Management
Langara Alumni & Community Engagement, International Education, and the Langara School of Management capped off the day's festivities with a reception for all graduates and their families. 
Each of the ceremonies were recorded in high definition video, which can be viewed on Langara's Youtube channel, or by following the link for each ceremony listed below. Photos are also available on Langara's Flickr Gallery for each ceremony below. 
---
Langara Convocation 2019: Ceremony One | June 20, 2019 | 9:45 am  Ceremony One photos
Graduates of the Faculty of Management and the Faculty of Arts – Diploma in General Education
Featuring Convocation speaker David H. Turpin, PHD, LLD, FRSC, CM, President and Vice-Chancellor of the University of Alberta
---
Langara Convocation 2019: Ceremony Two | June 20, 2019 | 3:15 pm  Ceremony Two photos
Graduates of the Faculty of Arts, Faculty of Social Sciences & Community Programs and Continuing Studies
Featuring Convocation speaker Sirish Rao, award-winning author, curator, and publishing professional
---
Langara Convocation 2019: Ceremony Three | June 21, 2019 | 9:45 am  Ceremony Three photos
Graduates of the Faculty of Nursing and the Faculty of Science 
Featuring Convocation speaker Robert Hogg, PHD, FCAHS, CM, Professor in the Faculty of Health Sciences and Senior Research Fellow with the BC Centre for Excellence in HIV/AIDS
---
Langara Convocation 2019: Ceremony Four | June 21, 2019 | 3:15 pm  Ceremony Four photos
Graduates of the Faculty of Management and the Faculty of Arts - Diploma in Arts and Science
Featuring Convocation speaker Leslie Cliff, CFA, HCPA, OC, Chair of the Board of Weath Management at Genus
---
Facebook Live 360 and YouTube 360 VR
For an even more immersive experience, view the 360 degree video on Facebook and YouTube.
About Langara College
Located in beautiful Vancouver, B.C., Canada, Langara College provides University, Career, and Continuing Studies education to more than 21,000 students annually. With more than 1,700 courses and 130 programs, Langara's expansive academic breadth and depth allows students of all ages, backgrounds, and life stages to choose their own educational path. Langara is also known as house of teachings, a name given to it by the Musqueam people on whose unceded traditional territory the College is located. Langara is celebrating its 49th year on West 49th Avenue with Beyond 49, an integrated celebration, alumni engagement, and fundraising campaign to reconnect with alumni, and raise funds for student support and important College initiatives.
Learn more.
Wendy Weston
Communications & Marketing
604.323.5884
wweston@langara.ca