Oct 12, 2016
Vancouver, BC – Today, Langara College celebrated the opening of its new Science and Technology Building. The ribbon-cutting event included Advanced Education Minister Andrew Wilkinson, Vancouver Deputy Mayor Heather Deal, Chief Wayne Sparrow of the Musqueam First Nation, and Langara students, board members, faculty, and staff.
Adding approximately 12,000 square metres of student space and 35 new laboratories and classrooms, the building is the new home for several programs including Computer Science, Biology, Physics, Internet and Web Technology, Nursing, and more. On the west side, a dramatic 16-metre cantilevered portion incorporates a skylight window that allows natural daylight to penetrate through to the ground below.
"This new facility provides new spaces and opportunities to enhance our students' learning. Our entire community is so excited about this beautiful signature addition to our campus," said Dr. Lane Trotter, President, Langara College.
"The new Science and Technology Building at Langara College will prepare students for a range of in-demand health care, life sciences and tech-related careers," said Advanced Education Minister Andrew Wilkinson. "Public post-secondary institutions are providing students with high-quality education and training opportunities in new buildings on campuses throughout our province."
Principle architects on the project are Steven Teeple, Teeple Architects and Kori Chan, Proscenium Architects. Construction of the new building began in April 2014, led by Bird Construction.
Advancing the College's sustainability goals, the project is targeted for a Leadership in Energy & Environmental Design (LEED®) Gold designation by using highly-efficient building systems and fully integrating healthy living components. LEED® design features include energy efficient building envelope; low-flow fume hoods with adjustable sashes; and, energy-efficient mechanical and electrical systems.
About Langara
Located in beautiful Vancouver, B.C., Canada, Langara College provides University, Career, and Continuing Studies education to more than 21,000 students annually. With more than 1,700 courses and 130 programs, Langara's expansive academic breadth and depth allows students of all ages, backgrounds, and life stages to choose their own educational path. Langara is also known as house of teachings, a name given to it by the Musqueam people on whose unceded traditional territory the College is located.
Learn more.
Mark Dawson
Manager, Communications and Marketing
Langara College
604.323.5702
mdawson@langara.bc.ca

PHOTO: (L to R) Wendy Lannard, Director, Facilties, Langara College; Honourable Andrew Wilkinson, Minister of Advanced Education; Vancouver Deputy Mayor Heather Deal; Dr. Lane Trotter, President and CEO, Langara College; Kwin Grauer, Chair, Langara Board of Governors; Chief Wayne Sparrow of the Musqueam First Nation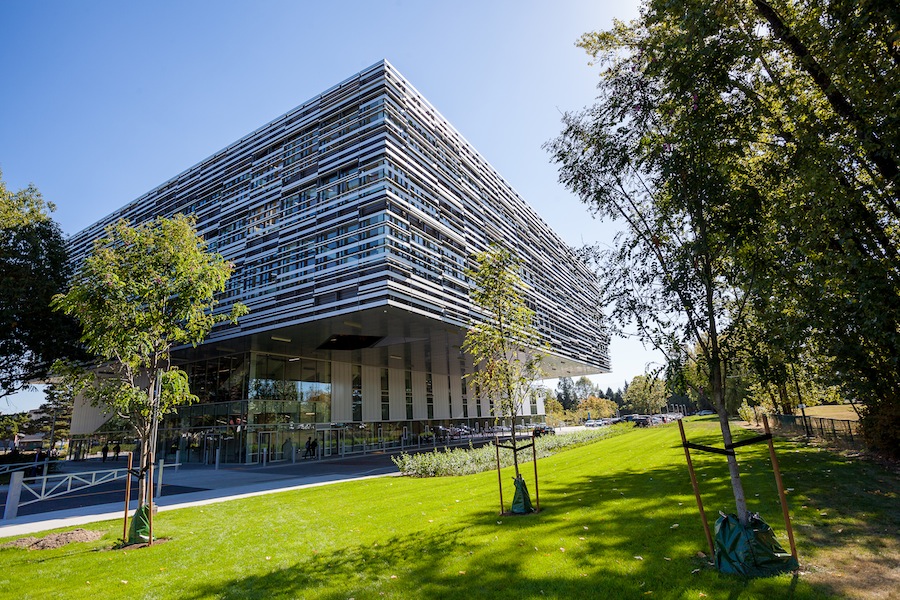 PHOTOS: Jennifer Oehler, Langara College