Jul 17, 2013
Vancouver, BC – Langara was pleased to welcome four representatives from Korea's Seoil University last week, who were on campus to visit 30 students currently attending a summer English program at the College.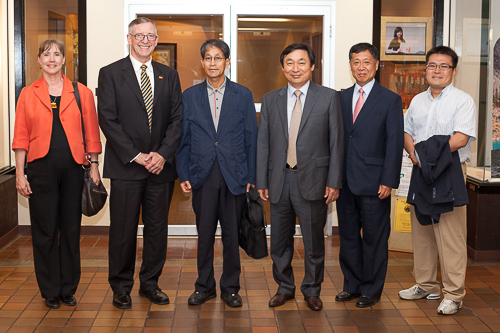 Langara Vice-President Dr. Ian Humpreys and International Education Manager Valerie Peters greet the Seoil delegation.
The delegation included Seoil's President Han Duck-Jeon and Dean Han Sang-Hyun, Professor Kim Kil-Soo from Seoil's English department, and Manager Lee Sung-Yeon from the Public Relations and International Exchange Office. They were greeted by Ian Humphreys, Langara's Vice-President Enrolment & Business Development, and Valerie Peters, Langara's Manager of International Education. The goal of the visit was to strengthen ties between the two institutions and to discuss the possibility of future collaboration.

"We're honoured to welcome the delegation from Seoil University, and to host their outstanding students as they work on their English studies," said Humphreys. "We look forward to exploring new ways to build upon our relationship in the future, and we wish the Seoil students the best of luck during their time in Canada."

"This is the second year that we have welcomed students from their university into our summer program.  They are wonderful ambassadors for their university and are making great efforts to benefit from their Canadian experience. We value the partnership that we have developed with Seoil University and look forward to working closely together in the future," added Peters.

The 30 Seoil students currently studying at Langara arrived on July 6 to begin a three-week English program. To participate in the exchange they engaged in a competitive selection process at their home institution, and as a result the visiting group hail from a variety of different academic departments.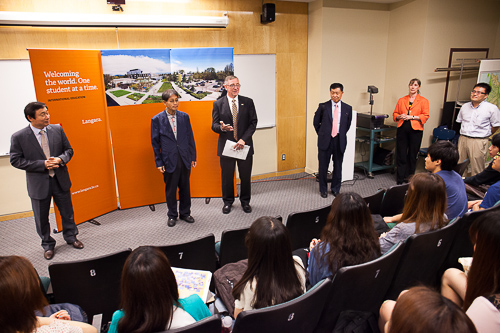 Dr. Ian Humphreys and Seoil President Han Duck-Jeon welcome Seoil students to Langara.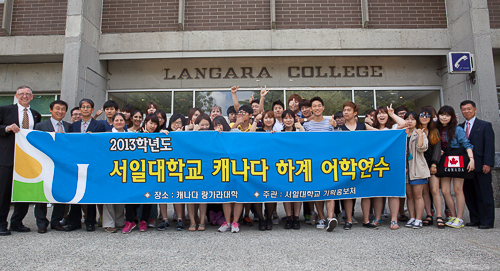 30 students from Seoil University in Korea celebrate their time in Canada. 


About Langara

Located in beautiful Vancouver, BC, Canada, Langara College provides University, Career, and Continuing Studies education to more than 21,000 students annually. With over 1,700 courses and 130 programs offered, Langara's expansive academic breadth and depth allows students of all ages, backgrounds, and life stages to choose their own educational path.
Learn more:
Annie Mullins
Communications Officer
Langara College
604.323.5058
amullins@langara.bc.ca