May 9, 2012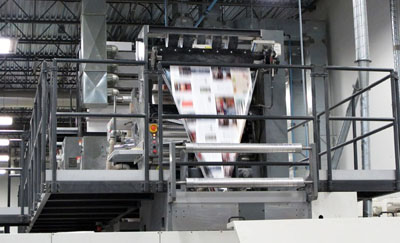 The 2012 edition of Pacific Rim Magazine in production.


Vancouver, BC
– On Monday the 2012 edition of
Pacific Rim Magazine
rolled through the production line at Mitchell Press in Burnaby, in preparation for the issue's launch on Wednesday.
The publication is the result of more than 3,000 combined hours by the students in Langara's Publishing Program. Copies will be distributed through the Globe and Mail tomorrow.
The 2012 issue of the magazine represents the 24
th
year of this award-winning publication. This year a robust 18,500 copies were produced of the 64-page publication, which features stories exploring connections across cultures within the Pacific Rim.
"I am very impressed with the depth and range of talent demonstrated by the Publishing Program students," said Darren Bernaerdt, Publisher. This edition continues to build upon the strength of the publication."
This year's
Pacific Rim Magazine
carries features on Vancouver's Historic Joy Kogawa House; Larry Kwong, the NHL's first Asian player; community activist and author Larry Wong; the Batad Rice Terraces of the Phillipines; as well as genetic modification and hunger issues, among other stories.
Pacific Rim Magazine
is written, designed and produced entirely by the Publishing students at Langara College. It focuses on the Asia-Pacific region from a Canadian perspective, with article topics ranging from technology, sports and business, to arts and culture.
Pacific Rim Magazine
is distributed each May through the
Globe and Mail
.
Learn more.
Annie Mullins
Communications Officer
Communications & Marketing Services
T 604 323 5058
amullins@langara.bc.ca