Jan 26, 2012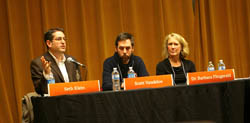 The End Child Poverty Now! forum panel. Photos: Annie Mullins
Vancouver, BC, January 26, 2012 – Hundreds gathered at Langara College last night for a public forum on ending child poverty.  
The forum, entitled End Child Poverty Now!, was spearheaded by instructor Fran Grunberg from Langara's Social Service Worker program. Eight panelists, ranging from inner-city teachers to policy strategists and charity directors, led the discussion, which addressed the sensitive and immediate issues surrounding child poverty in British Columbia.   
MLAs Jenny Kwan (who represents Vancouver – Mt. Pleasant) and Shane Simpson (who represents Vancouver – Hastings) were in attendance, along with representatives from the Vancouver School Board and members of several local charities.  
The event aimed to address BC's child poverty rate, which has consistently been the worst in Canada for the past eight years. The first panelist to speak was Carrie Gelson, a teacher at Admiral Seymour Elementary School in East Vancouver who garnered a wealth of media attention by writing an open letter about the child poverty crisis to the community last September.  
"We are not doing nearly a good enough job for children living in poverty," Gelson declared. Speaking to the immediacy of the issue she added, "You don't get a second chance to provide early intervention."  
Gelson was followed by Adrienne Montani, the Provincial Coordinator for First Call (BC's Child and Youth Advocacy Coalition). Montani discussed BC's "child poverty report card", citing provincial statistics that show "in 2009, [the most recent data available,] one in every five children was living below the poverty line."  
Dr. Clyde Hertzman, the director of the Human Early Learning Partnership (HELP) at UBC, added details about the impact of poverty on early childhood development to the discussion. He was followed by Andrea Lemire, the director of the Society for Children and Youth of BC, who spoke about the UN declaration on the rights of a child.  
Janey Lee, a teacher from Thunderbird Elementary School, then delivered a moving and emotional speech about her experiences growing up as a child in the "working poor" community.  
Dr. Barbara Fitzgerald, a pediatrician who works with the RICHER (Responsive Intersectoral Children's Health, Education, and Research) initiative at UBC, spoke next. She said, "It's time for us in this city to be a little bit bolder. I think people are starting to get uncomfortable with the disparity that exists."  
Youth and family worker Scott Vandeloo and BC director of the Canadian Centre for Policy Alternatives Seth Klein rounded out the panel. Klein, who is also the co-chair of the BC Poverty Reduction Coalition, spoke about two key messages with regards to child poverty. He said, "One: we all pay for poverty. Two: there's nothing inevitable about this."  
The goal of the forum, according to Grunberg, was to keep social focus on child poverty in BC and to generate ideas for change.    
About Langara College
Langara College, located in beautiful Vancouver, BC, Canada, provides University, Career, and Continuing Studies programs and courses to more than 23,000 students annually. The College's expansive academic breadth and depth allows students to choose their own educational path.  
 
Learn more.
Annie Mullins
Communications Officer
Communications & Marketing Services
T 604 323 5058
F 604 323 5680
amullins@langara.bc.ca