Oct 22, 2010
Written by Tony award-winning playwright Mary Zimmerman
Alumnus Mike Stack returns to direct
"…visually captivating and surprise-filled." - Chicago Sun-Times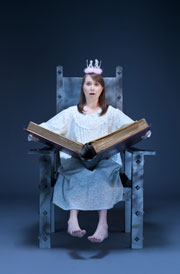 Vancouver, BC - Studio 58, the nationally renowned professional theatre training program at Langara College, proudly continues the 45th season with Mary Zimmerman'sThe Secret in the Wings, a spellbinding look at fairy tales not necessarily for children, directed by Mike Stack with musical direction and original compositions by Kevin McNulty.
A captivating and quirky contemporary look at rarely told fairy tales including the princess who wouldn't laugh, 3 blind queens and the snake girl who refused to die, all framed by a unique take on the beloved classic, Beauty and the Beast. The Secret in the Wings sublimely intertwines archetypal tales creating a hypnotic voyage to unexpected lands where the impossible is probable and nothing is safe. This riveting work probes the magic and menace of stories that will delight and enlighten.
Tony award-winning director Mary Zimmerman (Metamorphoses, The Odyssey) is a founding member of the Lookingglass Theatre Company in Chicago where The Secret in the Wings was first produced in 1991. She is an alumnus of the Performance Studies Department of Northwestern University and currently holds a position on their faculty. Her many awards include 2 Tony Awards for Best Direction, the prestigious John D & Catherine T MacArthur Fellowship (1998) and 20 Joseph Jefferson Awards for her creative work. Other productions for Lookingglass include Eleven Rooms of Proust, directed adaptations of Journey to the West, The Odyssey, Silk, Arabian Nights and The Notebooks of Leonardo da Vinci. She was the director & co-librettist of 2002 Galileo Galilei, music by Philip Glass, commissioned by the Goodman Theatre. More recently her directing work has been in opera, mainly for the Metropolitan Opera in New York. Works there include Donizetti's Lucia di Lammermoor, Vincenzo Bellini's La Sonnambula and Gioachino Rossini's opera seria Armida starring Renee Fleming.
WARNING: Mature subject matter.
The magical and macabre world of this captivating piece will be brought to the Studio 58 stage by an accomplished creative team including Mike Stack (The Overcoat, The Number 14), Kevin McNulty(A Midsummer Night's Dream) Yvan Morissette (Jocasta,6 Miniature Tragedies), Mara Gottler(Jocasta, Richard III), and Darren Boquist (Where's Charley?, Bye Bye Birdie).

Directed by Mike Stack
Original Composition and Musical Direction by Kevin McNulty
November 18 – December 5, 2010
Previews November 18 & 19; Opens November 20
At Studio 58, Langara College, 100 West 49th Avenue
www.studio58.ca
Set and Prop Design by Yvan Morissette
Costume Design by Mara Gottler
Lighting Design by Darren Boquist
Shows
8:00 pm Tuesday to Saturday; 
Matinees 3:00 pm Saturday & Sunday, except November 20;
NO SHOWS Mondays
New this season - $10 Tuesdays!
Wed & Thur $18 / $17 Students & Seniors
Fri & Sat $22 (no discounts)
Previews & Matinees $12
Tickets Tonight, www.ticketstonight.ca or 604.684.2787
For immediate release: October 22, 2010 
Media Contact:
Sherri Sadler 
604.323.5652 
ssadler@langara.bc.ca