May 25, 2010
Bike to Work Week is from May 31 to June 6, 2010. Be a part of a healthy and green initiative. Take part by joining the Langara Bike to Work Week Team or the Commuter Challenge Team.
Langara College Employees are encouraged to join the Bike to Work Week team. Team participants will be entered into a prize draw for a $100 Mountain Equipment Co-op gift card.
If you're not a cyclist, you can still participate by being part of the Langara College Commuter Challenge team. The national challenge is a friendly competition between communities and workplaces to see which region/workplace has the highest percent of healthy commuters.
If it's been a while since you've cycled, join us for the VACC Streetwise Cycling Course on Friday, May 28 from 4:30-6:30pm.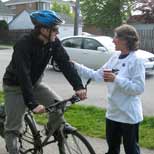 Bike to Work Week encourages people to bike to work, and live a healthier lifestyle. "There are all sorts of benefits from active transportation: health, environmental, and economic; but for me, one reason stands above all of these. I cycle to work for the enjoyment. When I'm on my bike, I can fly," says Fulton Tom, economics instructor. It's a great way to increase physical and mental health, and also cuts down transportation costs.
During Bike to Work Week, employees log the number of commutes, kilometers traveled, and carbon emissions reduced. Last year, the Langara College team logged 153 trips for a total of 1,543.86km travelled, making us one of the top 25 groups in terms of kilometers cycled during Bike to Work Week. A total of 287.97kg of Co2 was saved – that's equivalent to approximately 33 gallons of gasoline.
As part of this event, Langara College is hosting a bicycle commuter station on Monday, May 31 from 8-10am (in front of A Building).  Come by for free refreshments, courtesy of Chartwells and Tim Hortons, prize draws, bike repairs by Dr. Gearhead Mobile Bike Repairs, and free maps and active commuting information.
Help Langara think green. Ride a bike to work.
Learn more. 
Contact Fulton Tom at ftom@langara.bc.ca or 604.323.5763 
www.biketoworkmetrovan.ca