Mar 31, 2010
Langara College shares its ongoing commitment to sustainability with the launch of a new
Langara Thinks Green
sustainability website. The aptly titled website features the College's sustainability initiatives to date, as well as future plans and useful tips on how to lighten your ecological footprint.
The goal of Langara Thinks Green is to bring to life the College's commitment to a being part of a sustainable society. By sharing its initiatives, the institution hopes to foster and provide leadership to create more environmentally sound, socially just, and economically vibrant communities.
In addition to the website, the College is providing leadership through various initiatives. From using recycled paper products in the cafeteria to constructing new campus buildings to LEED (Leadership in Energy and Environmental Design) Gold standards, the College is working proactively to set an example by minimizing its ecological footprint. More recently, Langara hired an energy manager through the BC Hydro energy manager program in 2009. The energy manager will help Langara carry on its mandate to become more energy efficient and reduce greenhouse gas emissions.
"Over the past 10 years, Langara has completed audits, retrofits, and voluntarily designed new buildings to high environmental standards. I am excited to work with an institution which understands the benefits of energy management," said Patricia Baker, Langara College Energy Manager.
To learn more about Langara's "green" initiatives including sustainable construction; alterative transportation options; energy management, recycling, and composting programs; Data Centre upgrades; and other green ideas, visit www.langara.bc.ca/sustainability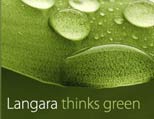 Media contact:
Ian Humphreys
Director, Communications & Marketing Services
Langara College
604-323-5671
news@langara.bc.ca