Overview
One of the best theatre schools in Canada, Langara College's Studio 58 (Theatre Arts) provides practical, hands-on training for students looking for exciting and rewarding careers in professional theatre.
Live, learn and work as a professional theatre artist. It's a full-time job beginning at 8:30 a.m. and often working late. Days are filled with classes, crew calls, rehearsals and evening performances.
Challenging? Yes. Rewarding? Without a doubt. Actors, stage managers, technicians and designers discovered at Studio 58 are now working for professional theatre companies and festivals around the world. In fact, more than 90 percent of Studio 58 students find professional theatre work within six months of graduating. Graduates perform throughout Canada, the United States, Australia and England in live theatre, film, television and radio.
Studio 58 offers two programs: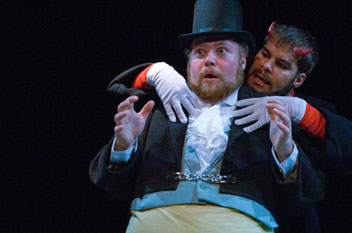 Studio 58 (Theatre Arts), the professional theatre training program at Langara College, presents four full-length plays and two "Risky Nights" projects between October and April. All productions are designed and directed by professionals from the Vancouver theatre community. Theatre Arts students in the 4th, 5th, and 6th terms of the acting program perform in the shows, and production students, along with lower-term acting students, work backstage and provide technical support.
Ticket prices are very reasonable. ALL Studio 58 shows have two FREE preview performances for students. Reservations are advised. Call the box office at 604.323.5227 or contact TICKETS TONIGHT for more information or visit the Studio 58 website for further details.
Apply

›