Dec 16, 2022
Vancouver, BC – Langara College students were well represented at CityStudio Vancouver HUBBUB 19 this week.
The Integrated Marketing Communications students behind You're About to Go Blue - Roselle, Ann, Marjorie, and Estefanny - were awarded the CityStudio Vancouver Staff Pick award for their "beautifully haunting visuals" and for inspiring us to reimagine life for residents in Vancouver with rising sea levels in a very real way. The project itself is a marketing campaign depicting visuals of Vancouver with higher water levels in an effort to promote living a more eco-conscious lifestyle.
Langara College faculty members Drew Egan and Mike Smith-Cairns worked in collaboration with City of Vancouver staff Brad Badelt, Assistant Director, Sustainability, to support the students on their project. The Staff Pick Award recognizes a project that speaks to the CityStudio vision for a sustainable, equitable, and joyful Vancouver.
About CityStudio Vancouver
CityStudio Vancouver is an innovation hub where city staff, students and community co-create experimental projects to make Vancouver more sustainable, equitable, and joyful. CityStudio started in 2011 as a collaboration between founding partners SFU and the City of Vancouver, and now includes SFU, UBC, BCIT, and Langara College. In the last nine years, over 10,000 students have worked on 1,860 projects through CityStudio.
About snəw̓eyəɬ leləm̓ Langara College 
Located in beautiful Vancouver, B.C., Canada, snəw̓eyəɬ leləm̓ Langara College provides University, Career, and Continuing Studies education to more than 23,000 students annually. With more than 1,700 courses and 130 programs, Langara's expansive academic breadth and depth allows students of all ages, backgrounds, and life stages to choose their own educational path. Langara is also known as snəw̓eyəɬ leləm 'house of teachings', a name given to it by Musqueam, on whose unceded traditional territory the College is located.   
Learn more.
Mark Dawson
Manager, Public Affairs
Langara College
mdawson@langara.ca
Renée McMillen
Communication & Engagement Coordinator
renee@citystudiovancouver.com
604.376.1121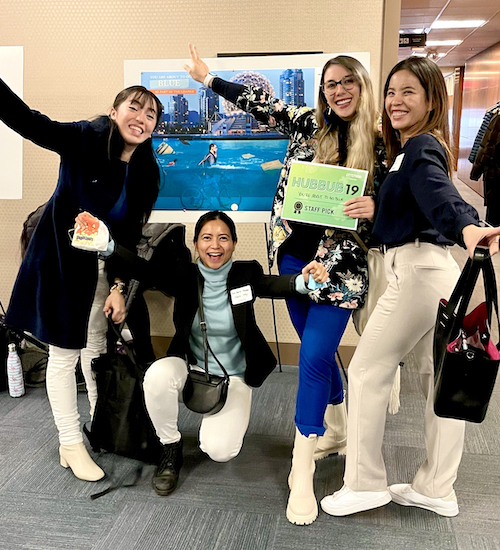 PHOTO: Roselle, Ann, Marjorie, and Estefanny were awarded the CityStudio Vancouver Staff Pick Award.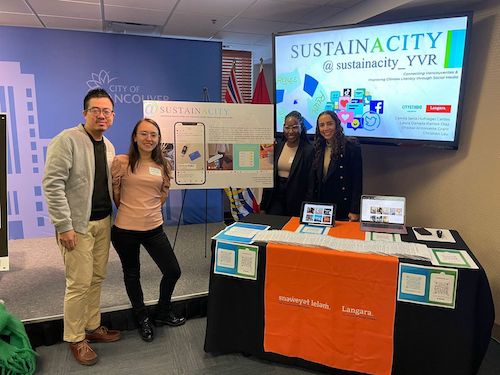 PHOTO: Camila, Laura, Shadae, and Christian for presented their work about climate literacy at #HUBBUB19.