Feb 6, 2019
Vancouver, BC - In an effort to meet local industry demand for skilled artists, and to promote Vancouver internationally as a hub for the creative industries, a partnership between Langara College and the Academy of Art University, San Francisco (ArtU) will train students for careers in gaming and film. The programs will be located at a 38,000 square foot state-of-the-art facility at 565 Great Northern Way in Vancouver.
The ArtU at Langara programs will focus on VFX, 3D modelling, gaming, and other technology-related creative arts. All students will graduate with the skills they need to immediately enter the job market, with international students eligible to apply for a 2-3 year post-graduation work permit.
"This is an exciting project for Langara. Langara's mandate as a public college is to provide and build a strong, sustainable, innovative economy that works for everyone in the province. The ArtU partnership accomplishes exactly this," said Ajay Patel, Langara's Vice President, External Development. "These programs will train a workforce needed to fill high demand jobs in this important sector. We are really excited to work with the Academy to deliver high level programming in the creative arts for games and film."
Elisa Stephens, President of Academy of Art University, sees this as an especially beneficial partnership for aspiring professionals."We are first and foremost a professional school—a purpose-based art and design school where students develop their talents and acquire the specific skills sought by the creative marketplace," she said. "Partnering with Langara continues that legacy as we prepare students for career success in both the game and film industries."
"We are excited to be the knowledge provider as Langara expands their educational offerings. Our practice-based curriculum gives students the tools and real-world experience that today's creative industries are demanding," added Bill Tsatsoulis, Chief Operating Officer at Academy of Art University. "This partnership directly supports our vision to be the first choice for students seeking a world-class education in the arts, and the first choice for those seeking to employ talented artists and designers."
The creative arts industry in gaming and film are major drivers of the BC economy. Creative BC reports that budgeted motion picture production expenditures during the 2017-18 fiscal year contributed $3.4 billion to B.C.'s economy. The gaming industry has over 170 game development studios in the Vancouver area alone; a report by the Entertainment Software Association of Canada indicates that Canada's gaming industry contributes $3.7 billion to the country's economy.
There has been an overwhelmingly positive response from local industry to the launch of the Langara/ArtU partnership in Vancouver.
As Head of Animation at Digital Domain, Jan Philip Cramer is best known for his work as Animation Lead on James Cameron's Avatar, and as Animation Director on Avengers: Infinity War. Cramer won a Visual Effects Society (VES) award for the animated character 'Thanos' on February 5, 2019, and the upcoming Avengers: Endgame. Cramer expressed the industry's enthusiasm about the partnership.
"I am excited to hear the Academy of Art University is partnering with Langara and coming to Vancouver," said Cramer, Head of Animation, Digital Domain. "I completed my education at ArtU and it launched my career. Having this excellent education provided me with all the needed knowledge to succeed in the VFX industry and end up as Head of Animation at Digital Domain. I cannot wait to bring inspiring animators from the Langara ArtU program onto our projects."
About Langara
 College
Located in beautiful Vancouver, B.C., Canada, Langara College provides University, Career, and Continuing Studies education to more than 21,000 students annually. With more than 1,700 courses and 130 programs, Langara's expansive academic breadth and depth allows students of all ages, backgrounds, and life stages to choose their own educational path. Langara is also known as house of teachings, a name given to it by the Musqueam people on whose unceded traditional territory the College is located. Langara is celebrating its 49th year on West 49th Avenue with Beyond 49, an integrated celebration, alumni engagement, and fundraising campaign to reconnect with alumni, and raise funds for student support and important College initiatives.
About Academy of Art University
For nearly 90 years, artists and designers have called Academy of Art University their home. Founded in San Francisco since 1929, it is the largest private art and design university in the nation. ArtU is first and foremost a professional school—a specialized place that helps students master their craft as they prepare for professional roles as artists and designers. ArtU's hands-on curriculum is taught by some of the finest minds working in today's creative and innovative industries. Working with Langara, they will help students develop their talent and acquire skills sought by the creative marketplace. For more information, please visit https://www.academyart.edu
Learn more.
Mark Dawson
Manager, Public Affairs
Communications and Marketing
Langara College
604.323.5702
mdawson@langara.ca
Diwakar Gandhi
Vice President, International Business Development
Academy of Art University
778.628.3797
dgandhi@academyart.edu
Background information
Brenda Bailey, Executive Director of DigiBC:
"We are delighted to see the launch of innovative programming, such as the partnership announced between Langara College and Academy of Art University. These programs will produce the highly skilled graduates we need in BC's fast growing interactive entertainment industry and will support the continued success of this sector in our province. The creative technology sector provides high paying, exciting jobs in a creative work environment – not only in the Lower Mainland, but in the vibrant technology hub of Victoria and emerging technology centres such as Kelowna and mid-Vancouver island. Skills needed in this sector span the range from coding and art to production and business skills. I encourage young BC'ers and those wishing to restart or enhance their careers to consider the incredible opportunities in the creative technology sector, and the excellent training offered by post-secondary solutions such as this."
Jon Lutz, Board Chair DigiBC and Electronic Arts VP Strategy, Ops and Finance:
"As the largest game developer in British Columbia, Electronic Arts (EA) is always focused on making sure we are growing the next-generation of talent for the interactive entertainment industry in this province. We are extremely supportive of the upcoming Langara and Academy of Art University partnership to launch their creative technology programs in Vancouver. This development shows off the strength of the creative economy ecosystem in BC, and EA looks forward to working with the Langara and ArtU teams and their future students."
Tim Fields, CEO, Kabam:
"Kabam is thrilled to hear about the new Langara College and Academy of Art program. Vancouver is a great place for game development and animation companies, and the programs they offer will help build strong talent in the region, I hope for years to come."
David McKay, Blackbird Interactive:
"Blackbird Interactive (BBI) is one of the fastest growing independent game developers in British Columbia and we are therefore thrilled the new Langara College and Academy of Art University campus has chosen Vancouver for its location. BBI relies on a supply of talented game developers and we are therefore excited to welcome the Langara College and Academy of Art teams and to work with them to continue our growth into the future."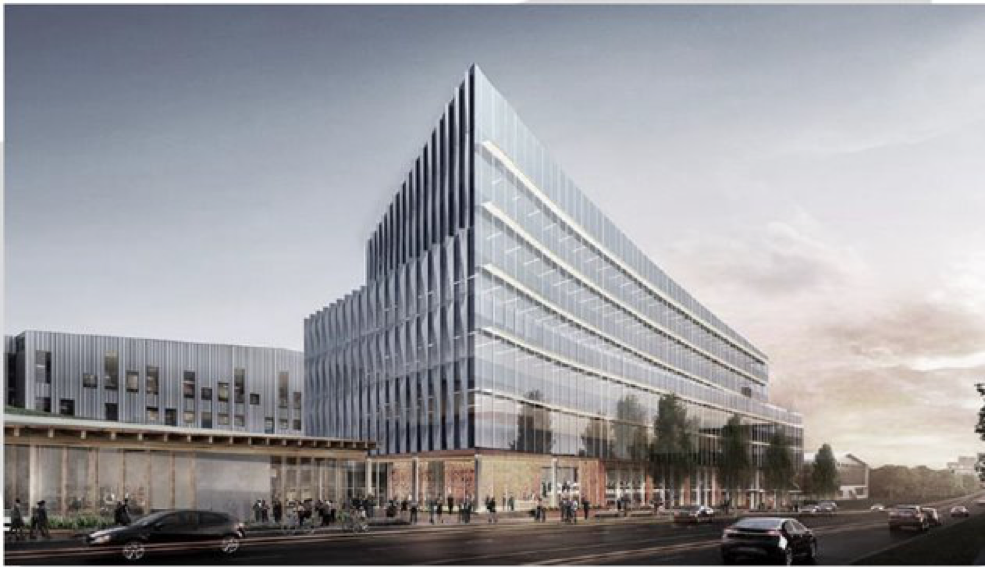 Langara College and Academy of Art University Campus, 565 Great Northern Way, Vancouver. PHOTO CREDIT: Spaces