Mar 10, 2017
Vancouver, BC - Langara's Computing Science and Information Systems (CSIS) program, together with software developer Vandrico Solutions Inc., have completed a project that could make the workplace safer for thousands of employees.
CSIS program coordinator Kim Lam, together with project aides Calvin Hu and Edmond Wong have designed ConnectedWorker, a smartphone and app that tracks employee movement in an industrial Wi-Fi network – a mine, mill, or complex construction site, for example.
Lam worked with Vandrico Inc. who provided the industry challenge and focus for the project, as well as the mobile and wearable devices used for the research.
"ConnectedWorker provides real-time visualization and decision support for industrial operations. Langara's new approach is anticipated to provide a significant accuracy improvement when triangulating worker location using Wi-Fi and Android devices in an industrial setting," said Kenny MacKenzie, President, Vandrico Inc. "The advances Langara has made can benefit industrial workers worldwide, potentially saving lives during an emergency."
The project attracted significant interest and funding, including $3,000 from the Langara Research and Scholarly Activity Fund (RSAF) and an Engage Award of $25,000 from the Natural Sciences & Engineering Research Council of Canada (NSERC).
"The opportunity the NSERC Engage Award afforded Langara resulted in a new industry partner, Vandrico Inc., and invaluable experience for our Computing Science and Information Systems students, Calvin Heu and Edmond Wong," said Margaret Heldman, Dean, Faculty of Science. "I'm grateful to principal investigator, Dr. Lam for stepping up and leading this project. Langara looks forward to working with Vandrico again in the near future."

About Langara College

Located in beautiful Vancouver, B.C., Canada, Langara College provides University, Career, and Continuing Studies education to more than 21,000 students annually. With more than 1,700 courses and 130 programs, Langara's expansive academic breadth and depth allows students of all ages, backgrounds, and life stages to choose their own educational path. Langara is also known as house of teachings, a name given to it by the Musqueam people on whose unceded traditional territory the College is located.
About Vandrico Solutions Inc.
Vandrico Solutions Inc. develops and licenses software that accelerates the digitization of traditional industrial operations by connecting data silos and providing actionable information in real-time to front-line workers. Our pioneering software introduces a real-time 3D visualization and communication platform with high scalability, reliability and security for complex industrial operations.
Learn more.
Mark Dawson
Manager, Communications & Marketing
Langara College
604.323.5702
mdawson@langara.ca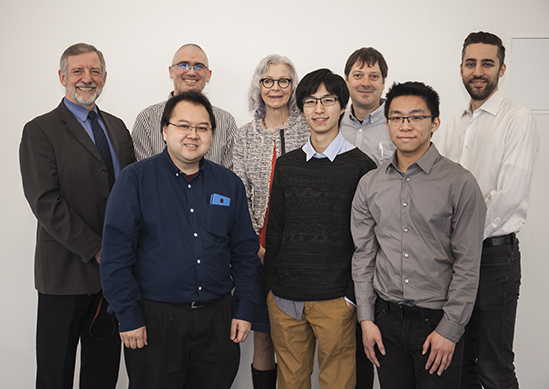 Back Row (left to right): Langara Provost & VP, Academics and Students - Dr. Ian Humphreys; Vandrico Director of Engineering - Jon Haydock; Langara Dean, Faculty of Science - Margaret Heldman; Langara Coordinator, Community & Industry Research Centre (CIRC) - Kelly Sveinson; Vandrico President - Kenny MacKenzie.
Front Row (left to right): Langara Computing Science & Information Systems (CSIS) Program Coordinator - Kim Lam; Project Aide - Edmond Wong; Project Aide - Calvin Heu.