Mar 9, 2017
Vancouver, BC – Langara food service provider, Chartwells continued their support of Langara students at a ceremony on Thursday, March 9. Compass Group Canada, the parent company of Chartwells contributed $25,000 to the College, which will be used to further endow student bursaries and scholarships.
 "Chartwells is pleased to provide the annual donation to assist students in financial need. We are proud to give back to students helping lessen the financial burden enabling them to focus on their studies." said Mr. Robert Morelli, Regional Director, Compass Group Canada Ltd.
Compass Group has established four awards (Compass Group Endowed Bursary, Chartwell Bursary, Chartwell Nursing Excellence Award, and the Chartwell Award of Excellence), each honouring academic success and assisting students in need. The group has donated over $150,000 since 1999, helping hundreds of students to continue and finish their education.
"We are very grateful to Compass Group Canada for their continued support to assist Langara students," said Moira Gookstetter, Executive Director, Langara College Foundation.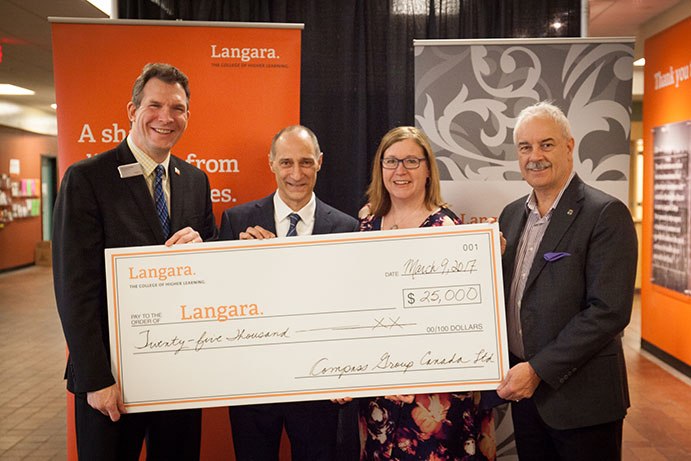 Left to right: President Lane Trotter; Regional Director, Compass Group - Robert Morelli; Executive Director, Langara College Foundation - Moira Gookstetter; and Chair, Langara College Foundation Board of Directors - Bruce Hurst
About Langara
Located in beautiful Vancouver, B.C., Canada, Langara College provides University, Career, and Continuing Studies education to more than 21,000 students annually. With more than 1,700 courses and 130 programs, Langara's expansive academic breadth and depth allows students of all ages, backgrounds, and life stages to choose their own educational path. Langara is also known as house of teachings, a name given to it by the Musqueam people on whose unceded traditional territory the College is located.
Learn more.
Carly Barrett
Communications Officer
Langara College
604.323.5176
cbarrett@langara.ca