Mar 3, 2017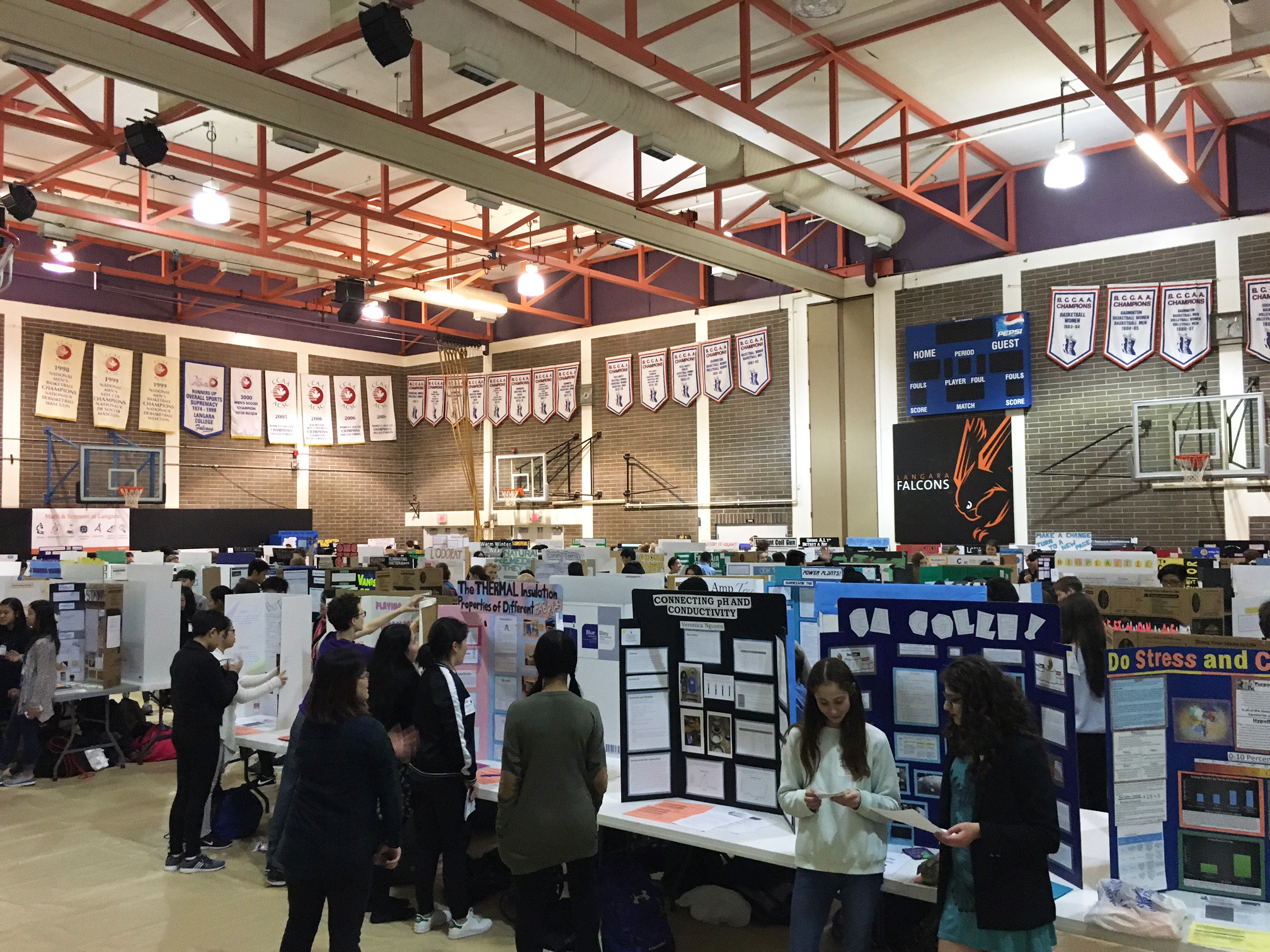 Vancouver BC – On Friday, March 3, Langara College welcomed 242 student scientists at the 15th annual Vancouver District Science Fair (VDSF). This sets the highest record for student projects at the annual science fair, held on campus each year in the spring.
"This year, the turnout for the VDSF was record-breaking with 163 projects. The Langara gymnasium was filled to the brim with amazing projects from 20 different schools...[and] the VDSF was a complete success with the help of 60 judges from the scientific and education community, teachers, student volunteers and dedicated parents," said Jeanne Yu, VDSF Coordinator. "Last, but absolutely not least, Langara has been a fantastic sponsor once again, hosting the VDSF in the brand new Science and Technology Building," she added.
The Langara Mathematics and Sciences Division has hosted the event since 2013. Over the past few years, Langara has seen hundreds of students attend this annual event to learn about the fields of science, technology, engineering, and mathematics. Students range from grades 7-12 and enter into the junior or senior competition, depending on their grade. The fair is organized by the VDSF committee, which is comprised of Vancouver School Board teachers. Langara College supports the endeavour by providing the facilities, equipment, and audio-visual equipment, as well as a number of volunteers and facilitated workshops for the students, all free of charge.
"Langara has been, and will continue to be, proud to support the Fair. It's an incredible opportunity to engage students in science while providing a fun educational experience," says Ian Humphreys, Provost and Vice-President, Academic and Students, who officially opened the event. "We believe students benefit from participating because it offers pathways to future studies and potential careers in an industry sector that is expected to grow exponentially in the upcoming years".
Students gain a wealth of hands-on experience through their participation in the Fair. In preparation for the event, they are encouraged to challenge themselves by working on the scientific process in creating their projects. During the fair students participate in breakout sessions and demonstration, which take place in the College's science labs.
This year's fair saw 163 student projects, ranging from the use of bicycles to charge mobile devices to thermal insulation properties of different fabrics to connecting pH and conductivity. A total of 87 winning projects will go on to the Greater Vancouver Regional Science Fair in April at UBC.
About Langara College

Located in beautiful Vancouver, B.C., Canada, Langara College provides University, Career, and Continuing Studies education to more than 21,000 students annually. With more than 1,700 courses and 130 programs, Langara's expansive academic breadth and depth allows students of all ages, backgrounds, and life stages to choose their own educational path. Langara is also known as house of teachings, a name given to it by the Musqueam people on whose unceded traditional territory the College is located.
About the Vancouver District Science Fair
The VDSF is a district-wide event where students from all corners of Vancouver can come and share their projects. All grades 7–12 students enrolled in a Vancouver public school in are eligible to participate in the VDSF. Approximately, eighty-five projects are selected to represent Vancouver at the Greater Vancouver Regional Science Fair (GVRSF) in April at UBC. 
Media contact:
Deborah Schratter
Communications Officer
Langara College
604.323.5014
dschratter@langara.ca