Dec 15, 2016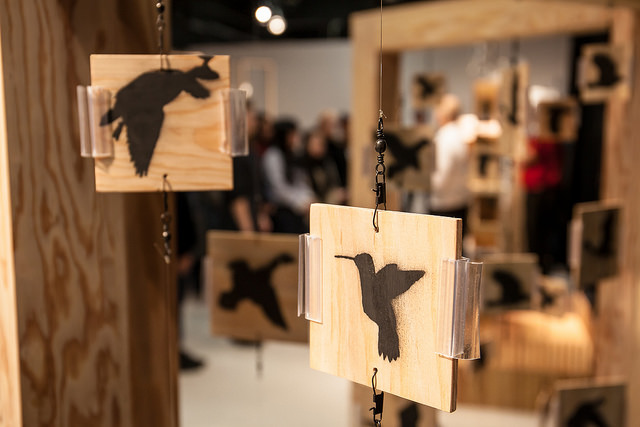 Vancouver, B.C. – Students from Langara's Design Formation program recently partnered with Vancouver Board of Parks and Recreation to launch the "Birds in the 604" exhibition.
The exhibition designed by second-year Design Formation Program students illustrates the central themes of the Vancouver Bird Strategy. Launched in 2015, the strategy, part of the city's Greenest City Action Plan, aims to create conditions for native birds to thrive in Vancouver and identifies five action areas that address the challenges to creating a bird-friendly city.
"With the shared core value of education, this partnership with the City of Vancouver seemed to be a perfect fit," said instructor, Peter Vysek. "The project allowed our students to apply their skills of exhibition design, while also shifting their perspective towards sustainability and the opportunity for positive outcomes for the community and environment."
"We wanted to create an exhibition that was accessible to the public and educated them on the challenges of making Vancouver more bird-friendly," added Vysek.
The Vancouver Bird Strategy aims to mitigate threats to the bird population through thoughtful building design, habitat improvement, and improved awareness of hazards initiated by human and pets. The display was constructed using a combination of strips of marine grade plywood, coroplast, plexiglass, and vinyl cut graphics. 
"We now have a sophisticated series of panels that help to describe in detail the various elements of the strategy. The work that the Langara students produced is a much bolder, graphic way to communicate some of the key messages. The sculptural elements are playful and accessible and should encourage greater interaction especially for children, a key audience to effect change in attitudes and behaviours," said Alan Duncan, Environmental Planner with the Vancouver Board of Parks and Recreation.
 "The students brought a very fresh look at the strategy and were able to synthesize important directions into simple statements reinforced by dramatic visuals," added Duncan  "In doing so, they created a very cohesive and professional display."
The exhibition will be on display in the design formation studios at Langara College until December 20. The exhibition will be available to the public as part of Bird Week in May 2017 and hopefully other venues throughout the year.
Photos of the exhibition are available here: https://www.flickr.com/photos/langaracollege/albums/72157673501248104
Located in beautiful Vancouver, B.C., Canada, Langara College provides University, Career, and Continuing Studies education to more than 21,000 students annually. With more than 1,700 courses and 130 programs, Langara's expansive academic breadth and depth allows students of all ages, backgrounds, and life stages to choose their own educational path. Langara is also known as house of teachings, a name given to it by the Musqueam people on whose unceded traditional territory the College is located.
Learn more.
Carly Barret
Communications Officer, Communications and Marketing
Langara College
604.323.5176
cbarrett@langara.ca