Oct 19, 2016
Vancouver, BC – The Langara Journalism program will feature prominently at tomorrow evening's 30th Annual Jack Webster Awards.
Shelley Fralic, a graduate of the program in 1980, is being awarded the 2016 Bruce Hutchison Lifetime Achievement Award. The Jack Webster Foundation's premier honour, the award is named after the illustrious Vancouver Sun journalist who started out at the Victoria Times in 1917 and went on to become the confidant of prime ministers.
Rob Dykstra, a 32-year member of the program, will receive the 2016 Bill Good Award. Announced in 2014, the award honours a British Columbia journalist, broadcaster, builder, or educator who makes a significant contribution to the field of journalism or the community-at-large.
Fralic's 41-year career at The Vancouver Sun began in the paper's human resources department, working part-time nights. In 1979 she made a rare transition into the editorial department. Thereafter, she propelled herself through the widest possible variety of newsroom jobs, including Executive Editor at the dawn of journalism's digital age. She chose, however, to return to her first love, writing, when she took on a column for the last 15 years of her career. Fralic retired in 2016.
"Bruce Hutchison was the reporter's reporter, the writer's writer, the consummate newsman," said Fralic. "To say that I am honoured to receive this award would be more than an understatement. It is humbling."
Dykstra has dedicated much of his professional life to teaching generations of journalists - more than 1,000 in total. Retired earlier this year, he served as instructor, coordinator, and chair of the Langara Journalism program. He oversaw the introduction of new courses, launched the Langara Journalism Review, and taught most every course in the journalism program curriculum. His legacy will always be the members of the media in BC and nationally who received the benefit of his knowledgeable instruction. Rob has made a profound contribution to journalism in our province.
Several other nominees are closely connected to the Journalism program, including:
Jack Webster Business, Industry and Economics Award
Mike Hager (Alumnus, 2011), The Globe and Mail
Best Feature Story
Justine Hunter (Alumna, 1987), The Globe and Mail
Jack Webster Award for Excellence in Legal Journalism
Kim Bolan (Instructor), The Vancouver Sun
Jack Webster Award for Excellence in Digital Journalism
Jon Woodward (Instructor) and Kendra Mangione, CTV Vancouver
About the Jack Webster Foundation
The Jack Webster Foundation was established in 1986 by the community to recognize excellence in British Columbia journalism in honour of legendary BC reporter, Jack Webster. BC-based journalists reporting for BC news organizations on stories for BC audiences were eligible to enter the 2016 Jack Webster Awards. Entries published or aired between June 1, 2015 and May 31, 2016 were eligible. Entries were submitted by a journalist or team of journalists working in print, radio, TV, and online media.
About Langara
Located in beautiful Vancouver, B.C., Canada, Langara College provides University, Career, and Continuing Studies education to more than 21,000 students annually. With more than 1,700 courses and 130 programs, Langara's expansive academic breadth and depth allows students of all ages, backgrounds, and life stages to choose their own educational path. Langara is also known as house of teachings, a name given to it by the Musqueam people on whose unceded traditional territory the College is located.
Learn more.
Mark Dawson
Manager, Communications and Marketing
Langara College
604.323.5702
mdawson@langara.bc.ca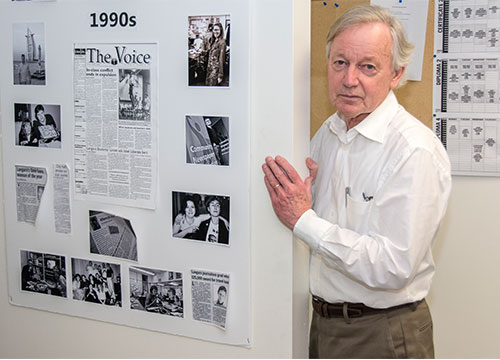 Former Langara Journalism instructor Rob Dykstra.