Mar 13, 2016
On March 13, the National Council for Marketing and Public Relations (NCMPR) presented its prestigious 2015 Paragon Awards at an awards ceremony in St. Louis, Missouri. Work by Langara's Communications & Marketing Services Department, in collaboration with staff in Advancement and Registrar & Enrolment Services, was among those recognized.
Langara won three Paragon awards: Foundation Annual Report (Gold), Outdoor Media (Gold), and Interior Signage/Displays (Bronze). This recognition follows up on a successful awards haul at the NCMPR's regional ceremony in September 2015 where Langara came away with eleven Medallion awards.
NCMPR's Paragon Awards recognizes achievement in communications at community and technical colleges. It is the only national competition of its kind that honors excellence exclusively among marketing and PR professionals at two-year colleges. This year, awards were handed out in 53 categories. A description of each award-winning piece is below.
Foundation Annual Report: Langara College's Foundation Report is designed to raise awareness of the significant work accomplished by the Foundation, including its impact on the College community and the legacy gifts received. To achieve this, the Foundation Report highlights various stories about our donors and how their gifts have touched the lives of Langara students. The report is used to reach out to the external community to build our donor base, and foster a sense of pride and an emotional connection with the College amongst our donors and prospective donors. Our goal is to inspire them with our wonderful outcomes and to think about philanthropy, whether that is through a donation to the College or a legacy gift.
Outdoor Media: Transit advertising has always been an integral part of our annual College-wide brand awareness campaigns. When the College launched its rebrand in 2010, transit advertising became one of the primary high visibility platforms through which the new brand of flood orange, conversational and pithy tone was communicated to the public. In 2015, we felt confident in taking our now easily recognizable brand to the next level of dialogue and engagement with the community. By highlighting iconic Vancouver elements that we knew would be widely relatable, specifically selected to inspire warm, feel good imagery of summer activities in the city. We drew comparisons to emphasize some of the College's key goals and core values in providing flexible, accessible, and empowering study options.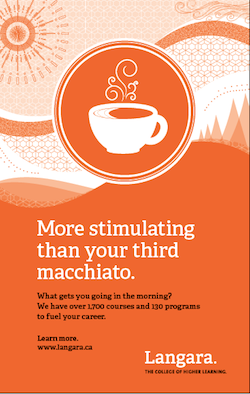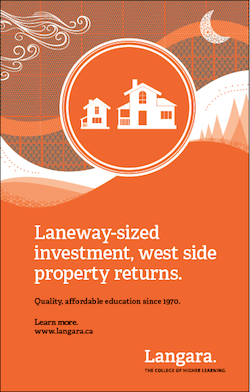 Interior Signage: Langara traditionally exhibits at the Vancouver Education & Career Fair, the largest such fair in Vancouver. At these events, we take the opportunity to engage with high school students who are interested in attending postsecondary. In December 2014, we were assigned a bigger and longer booth space than in previous years (i.e. two-sided corner.) We decided to reimagine the space and use a high impact, cohesive booth theme. We chose our "This is Langara" campaign as it features College-wide successes. Recognizing the youthful audience at the fair, we set up our booth to consist of six story panels featuring recent domestic student success stories from our career programs to university-transfer studies. Short story write-ups and QR codes led students to the full stories available on our www.thisislangara.ca microsite. Three additional display panels featured our College mantra, a selfie wall to encourage student interaction, and a chance for students to nominate a success story candidate.

A list of this year's winners can be found on the NCMPR webite.
About NCMPR
The National Council for Marketing & Public Relations is the only organization of its kind that exclusively represents marketing and public relations professionals at community and technical colleges. As one of the fastest-growing affiliates of the American Association of Community Colleges, NCMPR has more than 1,550 members from more than 650 colleges across the United States, Canada and other countries.
About Langara
Located in beautiful Vancouver, B.C., Canada, Langara College provides University, Career, and Continuing Studies education to more than 21,000 students annually. With more than 1,700 courses and 130 programs, Langara's expansive academic breadth and depth allows students of all ages, backgrounds, and life stages to choose their own educational path. Langara is also known as house of teachings, a name given to it by the Musqueam people on whose unceded traditional territory the College is located.
Learn more.
Rolf Savella
Communications Officer
Communications & Marketing 
Langara College
604.323.5961
rsavella@langara.ca