Mar 11, 2016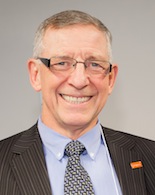 Vancouver, BC – Langara College has appointed Dr. Ian Humphreys as its new provost and vice-president academic and students, effective today. In this role Dr. Humphreys will provide academic leadership for Langara as well as oversee key areas including academic innovation, student services, and registrar and enrolment services, and lead the ongoing implementation of the College's Academic Plan.
"In both our Strategic Plan and Academic Plan, we have set ambitious goals for teaching and learning at Langara. Dr. Humphreys' academic experience and deep knowledge of the institution position him well to lead this important work," said Dr. Lane Trotter, President and CEO. "We are very pleased he has accepted the role".
Dr. Humphreys has served Langara in a number of roles over the past 10 years, most recently as vice-president, strategic planning and business development. Prior to joining Langara he spent a decade building a successful educational technology company and served as executive director of the Geraldine and Tong Louie Human Performance Centre at Simon Fraser University.
"Langara's strength is in the quality of its teaching and the educational experiences we offer students. I look forward to working with my colleagues in our faculties and student services areas to build on that strong foundation. It's an exciting opportunity," said Humphreys.
Dr. Humphreys holds MSc and PhD degrees from the University of Alberta, and a BSc in Sport Science from Liverpool Polytechnic in England.
About Langara
Located in beautiful Vancouver, B.C., Canada, Langara College provides University, Career, and Continuing Studies education to more than 21,000 students annually. With more than 1,700 courses and 130 programs, Langara's expansive academic breadth and depth allows students of all ages, backgrounds, and life stages to choose their own educational path. Langara is also known as house of teachings, a name given to it by the Musqueam people on whose unceded traditional territory the College is located.
Learn more.
Lisa Fisher
Director, Communications and Marketing Services
604.323.5619
news@langara.ca