Jan 11, 2016
Vancouver, BC – Grand Chief Edward John, the Honourable Andrew Wilkinson, Minister of Advanced Education, Vancouver Mayor Gregor Robertson, representatives of the Musqueam First Nation, and Langara College students, board members, faculty, and staff, gathered on Langara's campus today to witness a ceremony bestowing a Musqueam name on the College. The ceremony marks the first time a BC First Nation has given an Aboriginal name to a public post-secondary institution.
The event reflects the strengthening relationship between Langara College and the Musqueam people, and an acknowledgement of the College's location on Musqueam unceded traditional territory.
"As Chief of the Musqueam Indian Band and on behalf of the First Nations people of Musqueam I am honored to participate in the Musqueam Naming Ceremony for Langara College. Langara College sits on the unceded traditional territory of the Musqueam First Nation so it is very important that the College is taking the steps to create a Musqueam identity. I know that this naming ceremony will now become part of the culture of the College and be a source of pride for Langara students and all who come to the campus. By honoring Musqueam and incorporating its symbols and traditions into the very fabric of the College you begin a process of reconciliation and lay a foundation for new and positive partnerships for the future", said Wayne Sparrow, Chief of the Musqueam First Nation.

The name given to Langara means house of teachings, and references the advice given to a child to build their character and to guide them in to adulthood.
The hour-long ceremony was led by Musqueam Siem Henry Charles and included a traditional song and dance by Musqueam warriors. Langara College's Elder in Residence, Gail Sparrow, a former Musqueam Chief, served as master of ceremonies.
"The Musqueam name on Langara College is a testament to a collaborative, respectful and strong relationship," said Advanced Education Minister Andrew Wilkinson. "The population of aboriginal youth in British Columbia is growing quickly and it is important to encourage their enrollment, retention and completion in post-secondary education."
"We are humbled by the honour we received today," said Dr. Lane Trotter, President and CEO of Langara College. "In granting us this name, Musqueam have welcomed our presence on their lands and given us the responsibility to play a key role in preparing their young people for successful futures. We are committed to working collaboratively with Musqueam on achieving that important goal."
"Bestowing a Musqueam name on Langara is another wonderful example of how educational institutions in British Columbian are engaging with First Nations and advancing our common goal of reconciliation," said John Rustad, Minister of Aboriginal Relations and Reconciliation. "I want to recognize the good work Langara College and other post-secondary institutions are doing to honour Aboriginal culture and to support access to education and training for Aboriginal learners."
"As Mayor, I am encouraged by today's naming ceremony that Vancouver is continuing to move forward in the City of Reconciliation framework established by Council in 2014," said Vancouver Mayor Gregor Robertson. "A Musqueam name for Langara is another key step in acknowledging the truth of the past and building a future together based on respect, understanding and hope for a future in which all Vancouverites have an equal opportunity to achieve their dreams."
Siem Henry Charles
About the Musqueam First Nation
The hən̓q̓əmin̓əm̓ speaking Musqueam people have been present in what is now Greater Vancouver for several thousand years. The self-governing nation is a flourishing community of over a thousand members and maintains strong cultural and traditional beliefs. The community resides on a small portion of their traditional territory, known as the Musqueam Indian Reserve, located south of Marine Drive near the mouth of the Fraser River.
About Langara
Located in beautiful Vancouver, BC, Canada, Langara College provides University, Career, and Continuing Studies education to more than 21,000 students annually. With more than 1,700 courses and 130 programs, Langara's expansive academic breadth and depth allows students of all ages, backgrounds, and life stages to choose their own educational path.
Media Contacts:
Johnna Sparrow-Crawford
Musqueam First Nation
Email: johnna@musqueam.bc.ca
Mark Dawson
Manager, Communications and Marketing
Langara College
604.323.5702
mdawson@langara.ca
Backgrounder
Aboriginal engagement at Langara
 is recognized on the College's coat of arms through the incorporation of a base of river grass, "Musqueam" meaning "People of the River Grass." Langara's connection with the Musqueam was further strengthened in June of 2014 when Musqueam Elder Shane Point blessed Langara's third president and CEO, Lane Trotter, with the Musqueam name Takaya, which means wolf.
In 2004, Langara College was a leader among post-secondary institutions in B.C. in passing a formal Aboriginal education policy, with an aim to increase the enrolment and academic success of Aboriginal students. Its commitment to these efforts was affirmed in its new academic plan, which includes Aboriginal initiatives among the institution's key priorities.
More than 350 students enrolled at Langara currently self-identify as Aboriginal, Inuit, or Metis. The College provides them a number of support services, including orientation, counseling, advocacy, and liaison services. The Gathering Space offers Aboriginal students at Langara a place to connect with each other and Elder-in-Residence, Gail Sparrow, a former Chief of the Musqueam Nation.
Academically, the college offers diploma, associate degree, and post-degree certificate programs in Aboriginal Studies.
In September of 2015 Langara and the University of British Columbia signed a formal partnership to fully establish a university transfer program for Aboriginal students, solidifying and expanding a pilot program that began in 2012.
Read UBC-Langara Aboriginal Transfer Program student Randy Robinson's story here.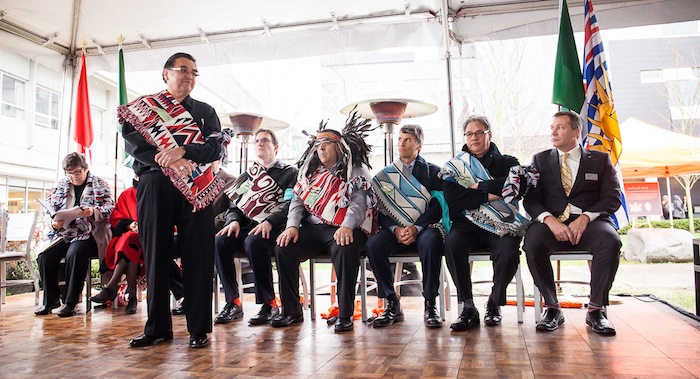 Photo: Jennifer Oehler