Nov 6, 2015
VANCOUVER, BC – The Langara College Journalism program was well represented at the 2015 Jack Webster Foundation Awards, led by alum Gary Mason (1982) who received the Bruce Hutchison Lifetime Achievement Award. Langara students and alumni joined the top journalists in the province as several Langara alumni and two current students were honoured for their journalistic achievements.
"Receiving the Bruce Hutchinson Lifetime Achievement Award is something I couldn't dream of when I was a young journalism student at Langara College," said Mason. "There are so many people with whom I share this honour and who have helped me succeed along the way, not the least of whom is my wife Barbara, who I met at Langara. So you could say I owe the college a lot."
In his acceptance speech, Mason addressed some of the young students in attendance, and urged them to continue refining their skills.
"I firmly believe they'll still be awarding lifetime achievements 50 years from now as we'll always need journalists in our society to perform the important overseer role that they do. And I also believe British Columbia will always be responsible for some of the best and most important journalism in the country," he added. Mason was also named as winner in the Best Feature Story – Print category for his piece in The Globe and Mail, Troubles at the BC Cancer Agency.
Other former Langara Journalism students who received awards included Larry Pynn (1975), Gordon Hoekstra (1993), and Kelly Sinoski (1990), awarded the Best News Reporting of the Year for their series in The Vancouver Sun, Mount Polley Mine Tailings Dam Collapse. Pynn and Hoekstra also combined to win the Business, Industry & Economics Award for their report Pride & Power: First Nations and the BC Economy.
Pynn won a third Webster in Science, Technology, Health & Environment for his report in The Vancouver Sun, Minding the Farm.
Justine Hunter (1987) won in Excellence in Digital Journalism for her report in The Globe and Mail, Google History Lesson.
Michele Brunoro (1992) won as part of a team in the Best News Reporting of the Year – Television category for their CTV Vancouver piece, Who Killed Serena?
"It was deeply rewarding to see how the people who got their start in the craft of journalism at Langara have gone on to do such meaningful and in-depth work. It's a testament to the quality of students Langara has had over the years and the thorough grounding they got by their instructors, some of whom were among the nominees, award-winners, and judges for the Websters," said Frances Bula, Chair, Journalism Department.
Two current Langara students, Bridgette Watson and Vincent Matak, were Student Journalism Award recipients.
About Langara's Journalism Program
The Langara College journalism program has earned a reputation as one of the top schools in Canada for intensive, hands-on training that leads to rewarding careers in reporting, editing, producing, and related fields. Students can earn a two-year diploma or an eight-month certificate for those with a bachelor's degree. The next Info Session is November 18, 6-8pm, in room A226.
About the Jack Webster Foundation
As Western Canada's best-known and most influential reporter, Jack Webster left his mark on the BC journalism scene with his hard-hitting reporting style. In his more than 40 years of print, radio and television journalism, Jack Webster was synonymous with insightful, accurate and unabashed reporting. Founded in 1986, The Jack Webster Foundation carries on Jack's legacy by promoting and recognizing the achievements of BC based reporters with the Jack Webster Awards.
Learn more.
Mark Dawson
Manager, Communications & Marketing Services
604.323.5702
mdawson@langara.bc.ca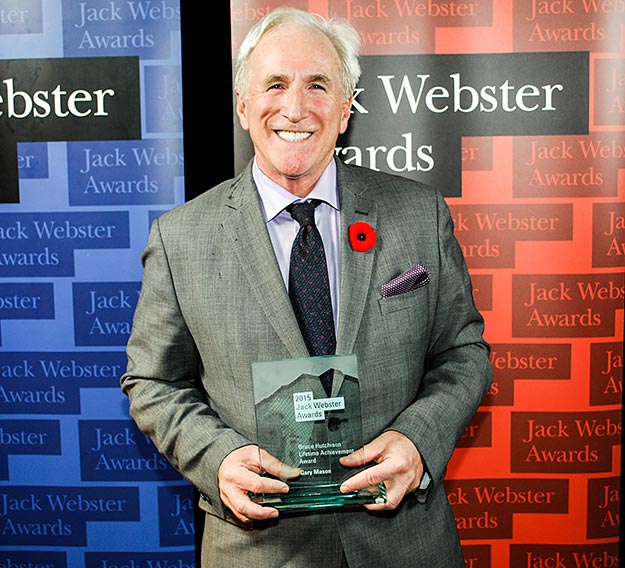 Photo: Jack Webster Foundation