Sep 25, 2015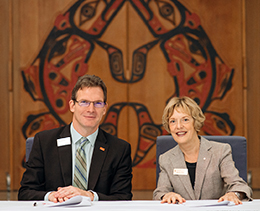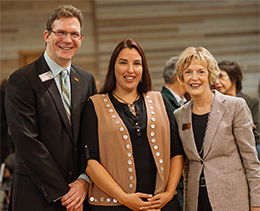 Photos: Justin Lee, University of British Columbia
Vancouver, BC - The University of British Columbia and Langara College announced today a formal partnership to fully establish a university transfer program for Aboriginal students.
The UBC-Langara Aboriginal Transfer Program began three years ago as a pilot project, but will now become a lasting agreement. It helps First Nations, Metis and Inuit students access university education by overcoming barriers to entry. 
"We are proud to be collaborating with UBC to expand opportunities for Aboriginal students," said Langara College President Lane Trotter. "Langara's accessible, flexible, and high-quality programs prepare students well for success at universities such as UBC, and are ideal pathways for Aboriginal students."
The formalized agreement between the two institutions gives Aboriginal students the option to transfer into a wider variety of UBC faculties and aims to increase the number of students who transfer each year. It also eases the coordination of student services and supports, including the allocation of scholarships and bursaries worth $10,000 per year at Langara and $20,500 per year at UBC. 
"This partnership with Langara College builds on the university's commitment to recruit and support Aboriginal students," said UBC Interim President Martha Piper. "Aboriginal students' lived experiences enrich UBC's teaching, research, and learning environment."  
 To transfer to UBC, students first complete 24 to 60 credits at Langara College. Admission to UBC is guaranteed for those who complete the required credits and maintain a minimum grade point average. 
Students have access to Aboriginal-centred student services and facilities at both institutions and UBC advisors drop in to Langara's Gathering Space to provide academic guidance. 
During the pilot project phase, students could transfer to pursue bachelor of arts degrees, and later on into science and commerce degrees, but will now also be able to transfer into degree programs in applied science, forestry and land and food systems if they meet the program-specific requirements.
Over the past three years, 12 Aboriginal students have transferred from Langara to UBC as part of the program. This month, five new transfer students have made the jump from Langara to UBC. 
Read UBC-Langara Aboriginal Transfer Program student Nicole Cardinal's story here. 
 -30-
Media Contacts:
Lisa Fisher
Langara College
Tel: 604.323.5619 Cell: 604.839.3092
Email: lfisher@langara.bc.ca
Lou Corpus-Bosshart
The University of British Columbia
Tel: 604.822.2048 Cell: 604.999.0473
Email: lou.bosshart@ubc.ca