Jan 28, 2015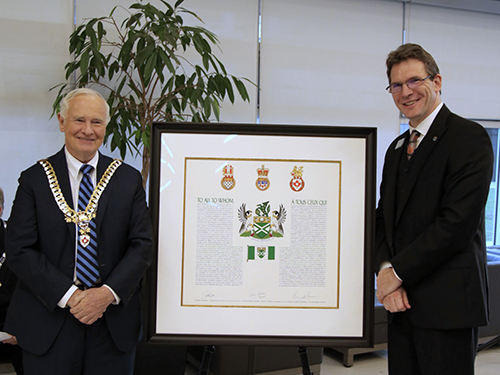 Vancouver, BC – Langara College officially revealed its new Coat of Arms at a campus ceremony on Wednesday, January 28, 2015. The armorial bearings were unveiled by special guest His Excellency the Right Honourable David Johnston, Governor General of Canada, along with Langara President and CEO Lane Trotter. They were joined by Rideau Herald Emeritus Robert Watt, who shared the significance of the Arm's symbolic features.
"We feel privileged that His Excellency and Mr. Watt were able to commemorate this special occasion with us," says David Bowra, Chair, Langara Board of Governors. "Today marks a historic moment for Langara."
The Coat of Arms process began in 2009 when the Langara Board of Governors passed a resolution to apply to the Canadian Heraldic Authority (CHA) for a grant of armorial bearings. With input from many College employees, students, and alumni, and in consultation with representatives from the Musqueam First Nation, Langara completed the project in 2014. The design includes a number of features symbolizing Langara's history and values, including the falcon mascot and the College's motto, Eruditio Libertas Est: "Knowledge is Freedom."
The design also features a bed of river grass in reference to the College's location on unceded Musqueam territory.
Representing the Musqueam First Nation, Chief Wayne Sparrow and Elder Shane Pointe were on hand to welcome the Governor General with traditional greetings, while Carl Point sang and performed. "In the creation of our Coat of Arms we looked to our roots, our culture, and our values," says Dr. Lane Trotter, President and CEO of Langara College. "With our new heraldry we honour the land on which the College resides and we celebrate Langara as a symbolic compass for students, guiding their studies and careers as they discover their pathways to success."
The ceremony was attended by notable guests including the Honourable Suzanne Anton, Minister of Justice and Attorney General, MLA for Vancouver-Fraserview; Ms. Adriane Carr, City Councillor; Mr. Christopher Richardson, Chairperson for the Vancouver School Board; members of the Langara Board of Governors; members of Langara's Emeriti; and past Langara President and CEO Dr. Linda Holmes.
 
About Langara
Located in beautiful Vancouver, BC, Canada, Langara College provides University, Career, and Continuing Studies education to more than 21,000 students annually. With more than 1,700 courses and 130 programs, Langara's expansive academic breadth and depth allows students of all ages, backgrounds, and life stages to choose their own educational path.
More photos.
 
Media Contact
Chris Smith
Communications Officer
Langara College
604.323.5176
chrissmith@langara.bc.ca