Sep 15, 2014
Vancouver, BC – The Canadian Collegiate Athletic Association (CCAA) has announced that Langara College soccer coach Marc Rizzardo will be honoured by the Canada Soccer Hall of Fame. Rizzardo, who has coached the Falcons' Men's team for the past 25 years, will be presented with the Brian Budd award, recognizing individuals who have shown outstanding achievement, dedication, and leadership in developing soccer in Canada.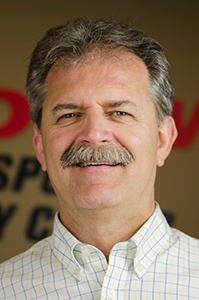 Rizzardo will receive the award at the Hall of Fame Induction Banquet on November 9, 2014, at Chateau Le Jardin Conference & Event Venue in Woodbridge, Ontario.
 
"I am not surprised to see Coach Rizzardo being honoured by the Canadian Soccer Hall of Fame," says Jake McCallum, Director of Athletics and Intramurals at Langara. "His dedication to the sport is second to none. We have been fortunate to have Marc on staff for 25 years, and in that time he has created a championship culture and made Langara a perennial contender on the field."
 
Rizzardo is already a Hall of Fame inductee as a member of the 1984 Olympic soccer team. At Langara, he heads into the 2014-2015 season with an impressive 143-57-38 record, leading the squad to four national championships and seven provincial titles. He is a three-time recipient of the CCAA's Coach of the Year and has been named PACWEST Coach of the Year five times. A respected physiotherapist, Rizzardo has also served on the Canadian medical staff for the 2008, 2010, and 2012 Olympic Games.
 
"Coach Rizzardo's expectations both on the pitch and in the classroom allow him to develop not only great players, but great student-athletes as well," adds McCallum. "This is of the utmost importance being we are an academic institution first."
About Langara
Located in beautiful Vancouver, BC, Canada, Langara College provides University, Career, and Continuing Studies education to more than 21,000 students annually. With more than 1,700 courses and 130 programs, Langara's expansive academic breadth and depth allows students of all ages, backgrounds, and life stages to choose their own educational path.
Media Contact
Chris Smith
Communications Officer
Langara College
604.323.5176

chrissmith@langara.bc.ca