Feb 19, 2014
Langara's badminton team nearly swept this weekend's PACWEST Provincial Championships, bringing home the team gold and four out of five individual titles – the best result ever for the program.
The talented student-athletes scooped up the conference championship with stellar performances all around. Florina Lau and Michelle Hang brought home gold in women's doubles, as did Hugh Leung and Shurman Chan in the men's doubles competition. The mixed doubles team of Nathan Choi and Ashley Jang also won their category after a riveting three-set final against the Kwantlen Eagles' team. Nathan and Ashley were named as this week's PACWEST Athletes of the Week following their big win. 
The fourth title was won in the men's singles competition, with an outstanding performance by first-year rookie Matt Chan. Matt, who has racked up an impressive 15-1 record this season, was also named as a CCAA (Canadian Collegiate Athletic Association) Athlete of the Month.

Coach Marc Petreman was also recognized by the conference for the team's incredible year, being named PACWEST Coach of the Year. 

"Marc and Assistant Coach Bonnie Wong were very excited about their recruiting class from day one, and now I can see why," said Langara's Athletics Director Jake McCallum. "Our team had a dominant performance at the provincial tournament, and qualified seven athletes for the CCAA National Championships. We are extremely proud of their accomplishments, and we are very hopeful that they will bring home some national hardware."

The Falcons head to the CCAA National Championships at Northern Alberta Institute of Technology (NAIT) on February 25, ranked first in the country going into the tournament.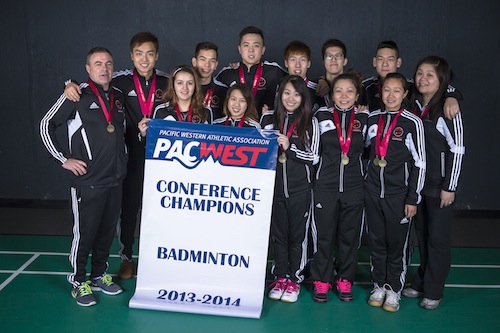 Media Contact:
Annie Mullins
Communications Officer
604.323.5058 | amullins@langara.bc.ca