Jan 20, 2014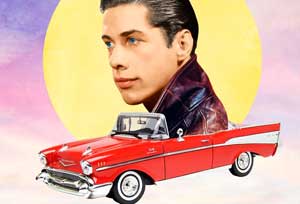 Vancouver, BC - Langara's nationally renowned professional theatre training program Studio 58 proudly presents a production of the original Grease, directed by Peter Jorgensen. One of the most popular musicals of all time, Grease transports us back to Rydell High's spirited class of '59 where gum chewing, hubcap stealing, hot rod loving boys with D.A.'s and their wise cracking ladies capture the look and sound of the 1950's in this rockin' show.
While hip Danny and wholesome Sandy sort out their mutual attraction, the gang sings and dances its way through nostalgic scenes like the pyjama party, the prom, the burger palace, and the drive-in movie.
"Grease is an iconic movie that comes with all sorts of expectations," said Jorgensen. "By working with the original script and score, I am aiming to let go of all those expectations and discover this show as if for the first time, and Studio 58 is the ideal setting for this to take place."
Peter Jorgensen (Avenue Q, The Full Monty, The Light in the Piazza) makes his Studio 58 directorial debut with this production. He is joined by a cracker jack creative team, including musical director Courtenay Ennis (Avenue Q, Songs for a New World, The Last Five Years), choreographer Kayla Dunbar (The Park, Stationary: A Recession Era Musical), set designer Omanie Elias (Oklahoma, Hello Dolly, Will Rogers Follies), costume designer Jessica Bayntun (Avenue Q, The Light in the Piazza, It's a Wonderful Life) and lighting designer Alan Brodie (Spring Awakening, Julius Caesar, Tear the Curtain).
Show Details
January 30 – February 23, 2014
Previews & FREE Student Nights Jan 30 & 31
Studio 58, Langara College, 100 West 49th Avenue
www.studio58.ca
Mondays - No shows
Tuesdays to Saturdays at 8:00 pm
Saturday & Sunday matinees at 3:00 pm (except February 1)
Ticket deals
Cheap Tuesdays
Sing-a-long Wednesdays
Student rush seats are $10
Ticket prices 
Single tickets - $27.75/22.75/21.75 
Previews, matinees and groups of 10+ - $17.25.
Order online at Tickets Tonight or call 604.684.2787
Warning: Contains adult situations and language. Not suitable for children.
Learn more
Sherri Sadler
Manager of Communications, Studio 58
604.323.5652
ssadler@langara.bc.ca