Nov 13, 2013
Vancouver, BC – The 2nd Annual Langara Research Showcase, held last week, attracted hundreds of students, faculty, and staff to learn about innovative projects involving the College community both on and off campus.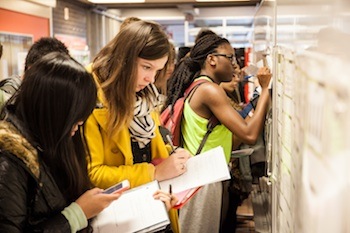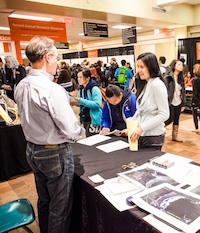 Representatives from a variety of disciplines, including psychology, health sciences, kinesiology, geography, and philosophy, presented their work in the central foyer of Langara's 'A' Building on November 7. Projects highlighted included research into the production, properties, and applications of biochar, led by chemistry instructor Kelly Sveinson; an examination of the coastal geology of BC's Esowista Peninsula by geology instructor Dr. Mark Smith; and a responsive garment developed by fine arts instructor Suzie Webster that tracks an individual's and transforms the heart signal into pulses of light. In total 20 research projects were highlighted at the showcase.

"This year's showcase was an excellent spotlight on some of the fascinating research happening here at Langara," said fair organizer Tomo Tanaka, Langara's Division Chair for the Creative Arts. "Applied research and scholarly activity continue to blossom at the College, and we're grateful for the opportunity to explore some of these initiatives in such an open setting."

Visitors to the showcase had a chance to enter a draw for an iPad mini, a prize that was scooped up by business student Steven Salinas after he dropped by to check out research projects at Langara.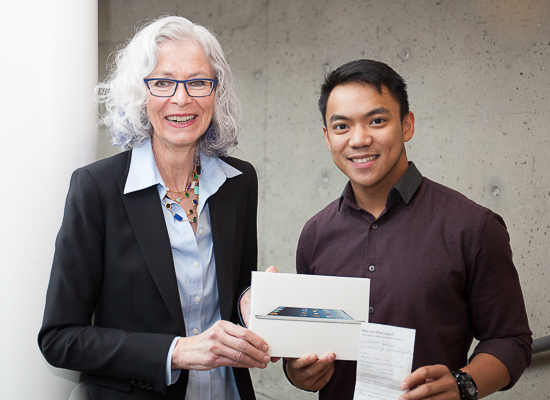 Dean of Science Margaret Heldman with Research Showcase prize-winner Stevan Salinas. 

About Langara
Located in beautiful Vancouver, BC, Canada, Langara College provides University, Career, and Continuing Studies education to more than 21,000 students annually. With over 1,700 courses and 130 programs offered, Langara's expansive academic breadth and depth allows students of all ages, backgrounds, and life stages to choose their own educational path.
Learn more:
Annie Mullins
Communications Officer
Langara College
604.323.5058
amullins@langara.bc.ca